The story of Austin and Lexi and the Snowcoming Dance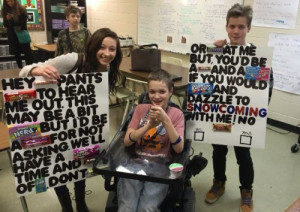 West Bend High School reporter Allison Trampe wrote a fantastic story about two students, who describe themselves as 'besties' and how their friendship grew to attending the recent Snowcoming Dance.  Read a portion of Trampe's story below as it appeared in The Current.
Austin Jug never expected to be at the center of a high school dance. Austin, you see, is in a wheelchair.
"I recently got asked out to my first high school dance ever," Austin said.
Austin, a West ninth grader, has cerebral palsy, which is a disorder of movement, muscle tone, or posture. He also has OMA, a visual disorder. He was surprised when Lexi Isaac, an East junior, asked Austin to the WBHS Snowcoming Dance on Feb. 27, especially because she did so in a big way.
During Austin's fourth hour class, Lexi came in with two big posters that combined letters and candy bars to spell out, "Hey Smartie pants… Take 5 to hear me out. This may be a bit Nerdy, but I'd be an airhead for not asking. We'll have a Good & Plenty time and Mounds of Fun.  Don't Chuckle or Snickers at me, but you'd be a Lifesaver and a Sweetart if you would Razzle and dazzle to Snowcoming with me! No Twix, just say yes, or yes!"
"Okay!," Austin exclaimed. His reaction….
Read the rest of the story at The Current
(Photo courtesy Dawn Goralski, special education instructional assistant.)