Obituary | Helene Grace Moberg, 83
March 12, 2019 – Helene Grace (Pflughoeft) Moberg passed away peacefully on Sunday March 3, 2019 after a long battle with Parkinson's and cancer in her room at Jackson Crossings.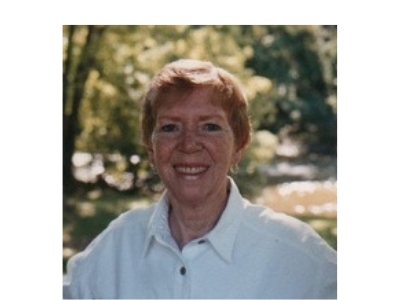 Helene was born January 23, 1936 in Milwaukee, WI, the youngest daughter of Erwin and Hilda (Gaulke) Pflughoeft.  She was baptized at Holy Ghost Lutheran Church on February 4, 1936.  Helene attended Holy Ghost Lutheran School and then graduated from Rufus King High School in June of 1953.  In 1951 Helene met Chester, the love of her life through a mutual friend.  They had their first date at a New Year's Eve party in 1951.  They dated from then, through Chester's deployment.  He returned in 1955.  On December 22, 1956, Helene was united in marriage to Chester Bernard Moberg.  The marriage was blessed with three children, Lisa, Tracey and Randy.  Helene worked as a cashier at Sentry Foods for 20 years before retiring.
Outside of work, Helene enjoyed sewing, knitting, crocheting, stamping and various other crafts.  She enjoyed making Barbie clothes and doll clothes for her family and friends.  She was a loving and caring person who helped whenever she could and worked on committees at her church.  Helene enjoyed visiting with her friends, playing cards and going on trips with them.  Most of all she enjoyed spending time with her children and grandchildren and participating in their lives and activities.
Helene will always remain in the hearts of Chester, her husband of 62 years; her children, Lisa (Mike) Schrack, Tracey (Tom) Johnson, Randy (Eileen) Moberg; her 8 grandchildren, Zachary (Taylor) Fredrick, Samantha (George) Carlson, Ian Schrack, Ryan (Jenna) Johnson, Jackie (Andrew) Sheffield, Gina (Joe) Leonard, Tracy (Allan) Dudek and Jennifer (Daniel) Buzzell; her 6 great grandchildren, Jordan Johnson, Gemma Sheffield, Aaron and Benjamin Dudek, Kayla and Kylie Buzzell; as well as nieces, nephews, other relatives and dear friends.
She was preceded in death by her parents Erwin and Hilda Pflughoeft; mother and father-in-law Chester and Marie Moberg; both of her sisters and brother in-laws, Fern (Russell) Steinfest, Betty (Jerome) Doerr; and brother-in-law's Theodore Kern and Robert Moberg.
A memorial service to celebrate Helene's life will take place at 2 p.m. on Saturday March 30, 2019 at Trinity Lutheran Freistadt, 10729 W. Freistadt Road, Mequon, WI with Reverand Carl Lehenbauer officiating.  A Gathering of Family and Friends will take place one hour prior to the service.  Memorials are preferred to the Cancer Society of Wisconsin.