September 21, 2022 – Washington Co., WI – With the midterm election quickly approaching and the spring election that will be here before we know it, I'm calling on this community's tried and true patriots that are NOT afraid to stand up, speak up, and let their voices be heard! Summertime cocktails on the back deck and rumrunners on the beach time is over; it's time for business. The time to get involved in what's going on is NOW!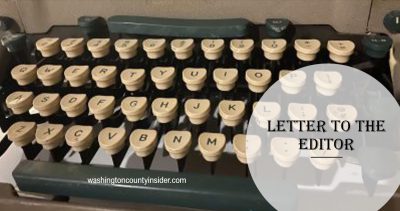 I am proud to say I was part of a team that helped campaign for the newest additions on the West Bend School Board, however it didn't end there. I've been involved by going to school board meetings ever since my nine-year-old son was kicked out of school for not wearing a mask in October of 2021.
As we stand today (Monday, September 19), I have missed two school board meetings. Two. One because I didn't get done working until 8:30 p.m., and another because I wasn't feeling well. Was it Covid? I'm not sure. After all, if you don't test for Covid, you can't have Covid, but I digress. I'm not forced to be at these meetings or asked to be.
I go to stay informed, learn, and hold the school district accountable. So, a question I have is why do I have a better attendance record for these meetings than some of the actual school board members? Do I have more of an interest in school business than they do? I may never find out.
As I got involved with campaigning by donating my time to help knock on doors, I realized how fun it was. I'm a people person. I love talking with and meeting new people. It was an awesome experience that I wanted to do more of, which lead me to join the Washington County Republican Party. I've had the honor to help campaign for Senator Ron Johnson, gubernatorial candidates Tim Michels and Roger Roth, and State Representative Rick Gundrum. Nobody told me I had to do this, and nobody is making this. I chose to donate my time to help spread the good word, the positive message, and for people to get out and exercise their right to vote.
A lot of the stuff you hear on the news is (unfortunately) happening. Crime on the rise, the White House not having a handle on inflation, and schools indoctrinating children by implementing transgenderism and sexual education as young as kindergarten. Yes, you read that correctly. Teaching kids it's perfectly fine to be something they aren't (a boy thinking he's a girl, or vice versa). DISGUSTING! Leave the children alone for Pete's sake!
It is for the reasons mentioned above that it is very important to get out and get involved! Start showing up to your local school board meetings, common council meetings, county board meetings, etc. Learn how they work and operate.
If we don't start NOW, it will be too late. We won't have much good to leave our kids, you know, the future of this country? It is not too late, however, if we wait too long for "someone else" to do all the hard work, our time to stand up and make a difference may have already passed. Just remember, you do have a voice, and that is your vote. Use it wisely.
Bill Schulz
_______________________________________________________
Disclaimer: Opinions and letters published on https://www.washingtoncountyinsider.com are not necessarily the views of the Editor or Publisher. The https://www.washingtoncountyinsider.com reserves the right to edit or omit copy, in accordance with newspaper policies. Letters must be attributed with a name, address, and contact phone number – names and town of origin will be printed or may be withheld at our discretion. During the course of any election campaign, Letters to the editor dealing with election issues or similar material must contain the author's name and street address (not PO Box) for publication.
Please also note:
COMMENTING
WCI COMMENTING RULES OF ETIQUETTE: While open and honest debate is encouraged here, Washington County Insider asks that you comply with the following rules for posting. Those who do not comply will have their posts removed and may result in being banned from commenting.
In an effort to provide a great experience and be welcoming to everyone, Washington County Insider will not publish comments and reserves the right to remove posts on social media/Facebook that doesn't adhere to the guidelines below.
Are considered likely to provoke, attack or offend others. This is known as "trolling." Trollers know when they are trolling, and so do we. *See the definition of "troll" below. If you notice a few consistent blog trolls disappear, you'll know why.
Are sexually explicit, abusive, or otherwise objectionable.
Contains inappropriate or vulgar language that is likely to offend.
Break the law or condone or encourage unlawful activity. This includes breach of copyright, defamation, and contempt of court.
Advertise products or services for profit.
Are seen impersonating someone else.
Repeatedly post the same or similar messages ('spam')
Include personal contact details such as telephone numbers and postal or email addresses.
Include a link or photo that has not been approved by the editor prior to posting.
Are considered campaigning. See also "trolling" above.
Are unrelated to the topic.
NOTES:
Just because your comment doesn't show up right away doesn't mean you're being censored. When you post a comment it must first go through our filtering software. If it fails, your comment goes into a queue for manual approval.
Just because a comment or advertisement is on the site, doesn't mean WCI endorses it.
The above rules are not intended to stop criticism or dissenters, but rather to stop those who are incapable of participating in a civilized manner.
*Trolling: a troll is a person who sows discord on the Internet by starting arguments or upsetting people, by posting inflammatory,[1] extraneous, or off-topic messages in an online community (such as a newsgroup, forum, chat room, or blog) with the intent of provoking readers into an emotional response[2] or of otherwise disrupting normal, on-topic discussion,[3] often for the troll's amusement. (source: Wikipedia)