AmazingRide, WI – It was the coyote fight that woke me at 4:30 a.m. It was loud and very West Side Story. The Jets would strike and the Sharks would lunge. It was the push-you-out-of-the-sack and start-the-day inspiration I needed to get moving. Little did I know that I'd be meeting Jesus today.
Spent the night at Illinois Beach State Park. It's the south park that allows camping, not the north end. "You can cross through to the south," said the Warden when I asked where the campsite was. "Oh no, wait, you can't, because of the nuclear power plant," she said. "It's about three miles."
The night went off without a hitch until 1:20 a.m. and winds kicked in. Checked the radar and a big storm was incoming.
I managed to get my gear stuffed into my micro tent and slept through a storm that must have dissipated.
Left the campground during a beautiful sunrise as steam rose from the swamp and blended with the horizon in Zion, IL.
It was a slow roll out to the road as the 74.24 miles from the day before left a mark and I cranked out some kinks in my giddy-up.
I heard the music before seeing what appeared to be Jesus pushing a baby stroller and walking alongside Lassie. CLICK HERE FOR THE REST OF THE STORY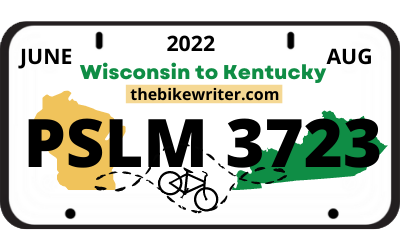 If the way that somebody lives pleases the Lord, the Lord will lead him into good things. Psalm 37:23 Easy English Bible The 2022 Amazing Ride for Alzheimer's is raising money this year for music programming for seniors at Cedar Community, a 501c3, so all donations are tax-deductible. Donate via the secure website through Cedar Community.  Donations should be marked "Amazing Ride 2022." Click HERE to make a secure online donation. Checks may be made payable to "Cedar Community" with "Judy Bike Ride" in the memo line and mailed to 113 Cedar Ridge Dr., West Bend, WI 53095 Be sure to include the Federal Tax ID Number for the Foundation: 39-1249432 You may also find a downloadable donation form HERE. Cedar Community is a 501(c)3 not-for-profit organization, and donations are tax-deductible.