Three local doctors to open private practice: West Bend Medical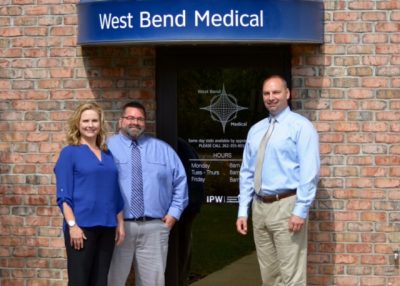 Oct. 3, 2017 – Washington Co., WI – Three popular local doctors from West Bend are moving to private practice and opening their own clinic.
Partners in family practice, Dr. Chad Tamez, Dr. Brian Wolter and Dr. Carey Cameron are starting West Bend Medical in Menomonee Falls.
"We've been toying with the idea for over a year," said Tamez. "We just wanted to make sure it's viable and it is."
Tamez, 42, and his business partners are excited about a number of new opportunities especially providing more personalized care.
"Being able to run our patient experience the way we think is best is important to us," he said. "We want to try to make it a little more personal and bring back the feel of small-town medicine."
Because Tamez and his business partners are leaving a current clinic, the no-compete contract stipulates they have to be 15 miles from their primary location for the next 18 months. A no-solicitation clause has also prevented the doctors from saying more, to this point.
Long term, Tamez believes the practice will eventually open a location closer to West Bend.
"The relationships I've developed and fostered with my patients for the past 12 years are deeply personal and important to me," said Tamez. "And if I can do this in 12 years, working within the constraints of a large system, imagine what I can do in the next 20 while being able to customize every aspect of the care I choose to deliver."
Dr. Tamez and Dr. Wolter trained together at the Medical College of Wisconsin both in medical school and residency. Tamez has been at the West Bend Clinic since 2005 with Wolter joining in 2008.  Dr Cameron has been with the clinic since 2003, spending most of that time in Jackson.
Tamez is a local product, graduating West Bend West High School in 1994.
West Bend Medical will officially open its phones on Oct. 4 and doctors plan to begin seeing patients Oct. 10.