March 2, 2020 – Big Cedar Lake, WI – For years we have been told the best way to avoid getting colds and flu is to thoroughly wash our hands. Now it seems almost daily we are reminded of the quick spread of COVID-19 and influenza, and that one of the best ways to avoid becoming ill is to wash our hands.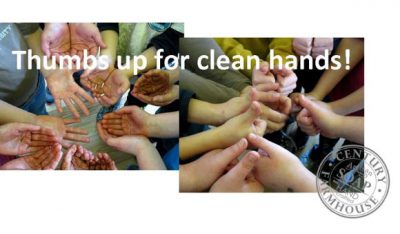 Squirting a little soap on our hands and rinsing them is not enough to really get them clean, and as a soap maker with a nursing background, I'd like to offer some advice for thorough hand washing techniques.
Bar Soap or Liquid Soap? Actually, it really does not matter. Liquid soap may be easier to dispense into one's hand and a little less messy at the sink, but bar soaps clean just as well – and maybe better, because they are far less drying to the skin than liquid soaps which are more likely to be made of harsh detergents and alcohols. If you are sharing a bar of soap at the sink, simply rinse the bar off under the running water before rubbing it on your hands.
Washing your hands:
-Turn on the water and wet your hands under the stream – use warm, not hot water, as the hotter water is quite drying to the skin.
-Rinse the bar of soap or place a squirt of soap in your hands and begin to lather your hands thoroughly.
-Rub the soap into a lather on the palms of your hands, then scrub the backs of your hands and pay special attention to the areas around your knuckles, nails, and between your fingers.
-Lather and scrub your hands for at least 20 seconds – about the time it would take to slowly sing the Happy Birthday song or the Alphabet song.
-Rinse thoroughly, again paying attention to all areas of your hands.
-Dry thoroughly on a clean towel, or on disposable towels.*
-Turn off the water using the towel(s) before discarding them. If using a cloth towel at home, change the towel frequently, especially if several people use that sink area.
-If you are in a public area, you might also want to use a clean paper towel or tissue to open the restroom door to keep your hands clean.
*No towels available in a public restroom? Take the time to thoroughly dry your hands with the air dryer, as wet hands are more likely to pick up germs again quickly.
When to wash your hands?
-Before eating.
-Every time you use the bathroom.
-Anytime you have touched your face: eyes, nose, mouth.
-Before you touch your face: eyes, nose, mouth.
-After using your phone or computer – or frequently while using them. Consider also cleaning the keyboards at least daily.
-Anytime you have been in a public area, opening doors, touching table surfaces, shopping carts, etc.
-After driving the car – a steering wheel is notoriously full of germs. Maybe give that a wipe-down too…
-Anytime your hands feel like they need a wash!
What about hand sanitizer?
Hand sanitizers do their best work with bacteria, not viruses, and while they can help clean your hands in a pinch when soap and water are not available, they should not be relied upon as a replacement for good hand washing.
A note about coughing and sneezing:
If you are coughing and/or sneezing, it is a good idea to use a tissue to cover your mouth and nose. If you don't have a tissue readily available, cough or sneeze into your elbow/sleeve.
In any case, whenever you cough, sneeze, or blow your nose, wash your hands.