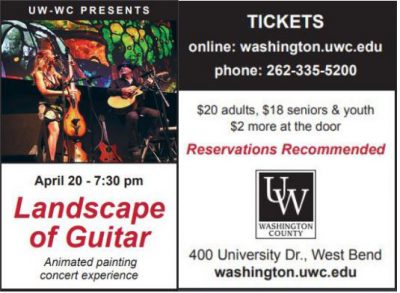 Washington Co., WI –   The Landscape of Guitar is a groundbreaking art & music production. Enjoy animated paintings that are sung to life as guitar birds fly over rolling guitar rivers and vivid guitar worlds.
Master guitarist Bruce Hecksel and singer-songwriter Julie Patchouli blend music from their two musical projects Terra Guitarra and Patchouli.  Terra Guitarra is reviewed as "one of the top nuevo-flamenco groups in the world" – Zone Music Reporter.
They have three top 5 internationally charting albums including Firelight nominated "Best Instrumental Album of the Year 2015". Public Radio's favorite Patchouli features Julie's sparkling lead vocals, beautiful duets and award winning compositions.
The Chicago Tribune says the duo's "songs about harmony & healing inspire the human spirit".
Landscape of Guitar Tickets:
$20 Adults, $18 seniors (>62), $18 youth (<18)
Purchase Landscape of Guitar tickets online
 Advance tickets are available online, www.washington.uwc.edu. UW-WC is located at 400 University Drive in West Bend.  The theatre is located on the second floor of the campus. Free parking is available. For more information, visit the campus website at www.washington.uwc.edu
 .