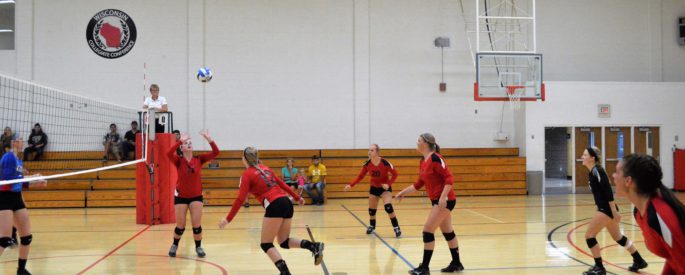 Sept. 13, 2017 – West Bend, WI – The
UW-WC Wildcat volleyball team
lost its first WCC Conference match to UW-Fond du Lac in a tough five set match 25-21, 20-25, 18-25, 25-23, 10-15.
"As a team we struggled with serving," said coach Deb Butschlick. "Missing serves especially at key times during the match."
As a team the Wildcats served 84% and missed 16 serves with 14 aces.  "It is hard to keep the intensity high when our serving is inconsistent," Butschlick said.
"When then team passes well we are able to run our fast offense effectively.  We had a lot of scramble plays where the team just plainly out hustled the opponent and won the point," she said.
Kayla Boehm led the team with 13 kills and 3 blocks.
Meghan MacFarlane had 10 kills and 33 digs.
Courtney Peters had 9 kills, 6 ace serves and 22 digs.
Kayla Schommer had 28 assists for kills and 3 ace serves.
Catherine Tucker led the team with 36 digs.
Saturday, Sept. 16 UW-WC hosts UW-Marathon at 12:30 p.m.