Tough night for UW-WC Wildcat volleyball vs. FDL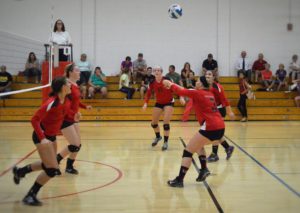 The UW-WC Wildcats played a very tough match Wednesday against UW-Fond Du Lac in its first WCC Eastern division match.
However the Wildcats came up short in 3 out of 5 sets:   20-25, 16-25, 25-21, 25-19, 10-15
UW-WC's Amber Herbst led the way with 21 kills and 4 digs, Savannah Jenz had 7 kills and 7 digs, Marisa Moser had 31 digs and 3 ace serves, Atira Boyce had 40 set assists.
"We played a little timid the first set letting long runs of serves put us behind," said coach Deb Butschlick.
"In the second set we just had too many unforced errors.  During the third and fourth sets we started playing Wildcat volleyball.  The final set we just played a little slow in recovering from their hits.

"When all was finished the team played really hard and never let their guard down."
UW-WC travels to UW-Marathon for a game on Saturday, Sept. 17 at 12:30 p.m.
Photo courtesy UW-Washington County.