Tournament victory for West Bend Spartans team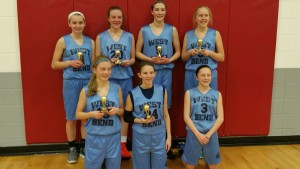 The West Bend Spartans 8th grade girls basketball team won its second consecutive tournament this past Saturday at Mayville.
The Spartans defeated a tough Mayville team in the first round of pool play followed by a win over Whitnall to win the pool.
In the championship game the girls defeated Oconomowoc. The girl's success continued on Sunday when they defeated Whitefish Bay and Mequon in Northshore Girls Basketball League action at Brown Deer High School.
The girls are now 3-1 in NSYGL games and 9-1 overall.
Photo and story courtesy a Spartan parent.