August 31, 2017 – Town of West Bend, WI – There's a hot topic on the agenda for tonight's Town of West Bend Plan Commission meeting.
The second item of business reads: Discussion/Action re: Expansion of Cedar Community Campus with Big         Cedar Lake Property Owners Association, Cedar Lake Campus, 5595 County Road Z, Town of West Bend, Washington County, Wisconsin.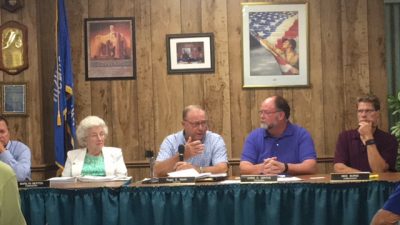 On Wednesday night about 100 people turned out for the Big Cedar Lake Protection and Rehabilitation District annual meeting where a similar discussion took place as Cedar Community explores whether to build 42 single-family homes and two buildings with a dozen units each of independent/assisted apartments.
Cedar Community CEO Lynn Olson said they've been in "very preliminary talks with the Town Plan Commission about potential new housing on the Big Cedar Lake Campus" just west of County Highway Z.
"This campus is all covered by a conditional use permit and every time you amend that permit it has to be done by the appropriate process," Olson said.
The expansion plan was initially floated in May 2017 and then brought back again in June 2017.
Meeting minutes from June showed some concerns by the Plan Commission:
  Review of long range plan for Cedar Community, Town of West Bend, Washington County, WI.
A schematic of the campus detailing proposed dwelling sites was distributed to commission members prior to the meeting, as well as a record of past conditional use permits issued since 1967.
The presentation included facts and figures citing a 245 acre campus, 10 acres wetlands, 4 acres retention ponds, and 8.23 acres of building footprint.  The need for expansion was measured by forecasted increasing demand for senior housing in Washington County, as well as the need for increased revenue to offset losses due to Medicaid under funding, and subsidies for independent living residents who run out of money.
It was also noted that expansion would allow the ministry to reach more people. With Washington County as the seventh fastest growing Wisconsin county, forecasted trends in long-term care and senior living were then described.
It was maintained that the Cedar Campus offers existing roadways, utilities, a unique natural setting, highest consumer demand, and the broadest continuum of care including independent, assisted, skilled, home and hospice care.  A summary of the Cedar Community's economic benefit to the overall community was described. This was followed by a description of the 15 year master plan in three phases. 
Phase 1; 7 homes in Kettle Heights, 8 homes in new Lodge Lane Village, 6 homes in North Village, 3 homes in new Lakeside Village.
  Phase 2; 20 homes in Moraine Village East, 4 homes in Lakeside Village.
  Phase 3; 8 homes on extended Lodge Lane, 16 homes in Moraine Village West, 4 homes in Lakeside Village, 8 single or 24 hybrid homes in new Heritage Village.
  Proposed are 84-100 new units.
   Some discussion followed regarding sewer capacity both with the existing force main and the City of West Bend's potential accommodation.  Moore indicated that within a 15 year window 170 homes would be sited on the property and expressed concern about precedent.
Moore also discussed the prospect of fire suppression in newly constructed dwellings. Some questions as to future plans to sell or subdivide were expressed. Concern about runoff to the south across German Village Road was also expressed. And, past experience with fire calls were discussed. 
It was noted by Town Chairman Jim Heipp that the town annual budget approximates $950,000 with $550,000 dedicated to fire contracts and fire related costs with neighboring municipalities, and that about half of the annual fire calls are generated from the Cedar Lake Home campus.
This, put forth in the context of the general property tax exemption. Noted also was that vehicular access to both German Village Road and Paradise Drive are not planned.
Todd Maclay asked about lake pier placement on the eight proposed lakefront dwellings, and indicated that the parcel's primary environmental corridors need to be mapped. Maclay then read an excerpt from a letter dated 6/8/1988 written by Rev. L.C. Riesch to the West Bend Town Board indicating that the Cedar Lake Home had no intention to construct additional single family residential retirement dwellings upon the Home's property in the Town of West Bend.
Maclay further noted the area between the existing villages and German Village Road had intended to be a buffer, and that the campus riparian lands are some of the last remaining substantial vestiges of open space/natural areas on Big Cedar other than those surrounding Gilbert Lake.
  Some discussion followed regarding the intent of these proposals, and what is being presented is substantially different than that of a month ago. Further discussion ensued as to how the proposal might be modified in future meetings.
During Wednesday night's meeting, neighbors on Big Cedar Lake and from the Town expressed mixed reviews on the proposal.
Scott Rolfs, a lifelong resident on the lake, praised Cedar Community for being a "big asset to the community" but he had some concerns about it's consistent desire to expand. "This is really now more of an adult-lifestyle community … and it concerns me this could someday be similar to the Lake Lawn Lodge Marina."
Steve Simon also spoke from a property owners association position. "We have a tool that can protect green acres around the lake," he said.
Representatives from Cedar Community have met with neighbors along County Highway Z and those around the lake. "We're still in the early parts of an exploratory process," said Olson.  "We're trying to listen, articulate our position and develop a plan we think works for Cedar Community, the neighbors and the town."
Olson said neighbors are mostly concerned about nature and preservation and maintaining the lake appearance and the natural character. "We think we'll be right in step of maintaining the character," he said.
No formal presentation has been made to the Plan Commission yet. "One thing I can say is none of our proposals involves lakefront development," said Olson.
Other concerns neighbors brought up during the PRD meeting included the amount of slips being proposed as compared to the amount of lake frontage Cedar Community owned. They also wanted to know what sewer and water systems they used (it was city sewer and well water).
During the Wednesday night meeting a copy of some key points of the Cedar Community proposal were passed out to the audience.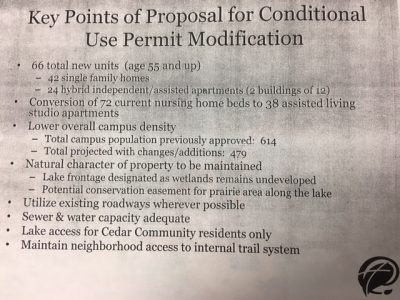 Olson said Cedar Communities Village Homes are "typically full with a waiting list."
There are currently 85 Village Homes.
During a June meeting Town Chairman Jim Heipp had questions about emergency calls in the town and how that factored into the demand from the residents at Cedar Community.
A record search shows:
The Town paid $519,913 for fire protection in 2016.
Cedar Community paid $5,100 for 6 fire calls from 2016. Cedar Community also made a $12,500 donation in 2016.
A document provided by the Town clerk shows the number of fire and EMS calls in the Town of West Bend and Cedar Community.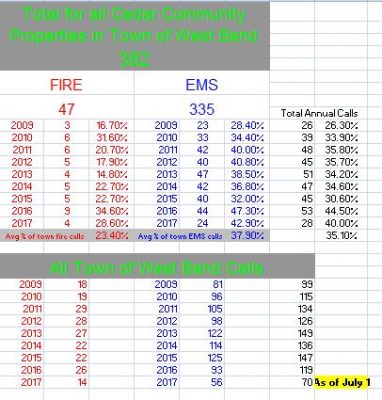 Olson said he is "just being patient through this process" and as soon as all the data is gathered a presentation will be made to the Plan Commission.
"We're not pushing this at all we just want to make sure people are fully informed," he said.  "We hope to present a final plan in the coming months that will reflect all of that input."
Tonight's Town of West Bend Plan Commission meeting gets underway at 7 p.m. at the TOWN OF WEST BEND TOWN HALL, 6355 CTH Z, WEST BEND, WI 53095