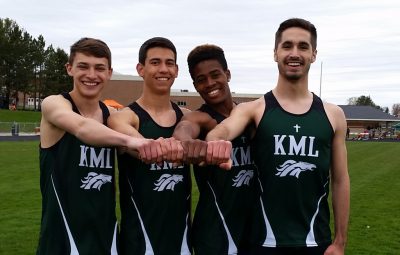 May 22, 2017 – Jackson, WI – Kettle Moraine Lutheran began its road to state with a WIAA Division 2 regional meet at Brown Deer.
Both the womens and mens teams put in strong performances, finishing 4th and 3rd, respectively.
Several Chargers took first-place honors, including Bram Miller and Brooke Kary in the shot put, Sophie Strasser in the discus, Joseph Raasch in both the 110 and 300 meter hurdles, and the boys 4×400 team of Raasch, Alex Michaelsen, Ethan Aisbet, and Grant Biesterfeld.
Also qualifying for sectionals were Bram Miller, Rachel Gahan, and Greta Strasser in the discus, Tyler Precia in the triple jump, both the boys and girls 4×800 relays, Ariana Miller and Alex Michaelsen in the 400, Peyton Weber in the 300 hurdles, the girls 4×400 relay, and Naomi Gahan in the 800.
For full meet results and scores, click
here
.The sectional meet will take place at East Troy on Thursday afternoon.
Photo is of (from left to right) Alex Michaelsen, Grant Biesterfeld, Joseph Raasch, courtesy Belinda Matter.