September 5, 2020 – West Bend, WI – It is with a heavy heart to relay the news that Mark Jug, 67, founder of MJ Stevens Pub & Restaurant and founder of McJugger's Saloon & Grill, has died.
Jug passed Friday night at Froedtert Hospital in Milwaukee. Tributes are below with many comments received referring to Mark Jug as "legend."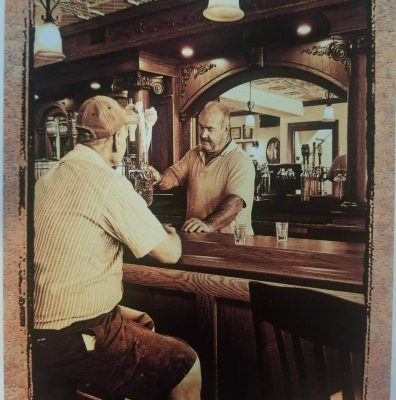 Doreen Laatsch works at Jug's and got her first job at MJ Stevens. She said the news spread quickly Friday night as staff at Jug's Hitching Post in Kohlsville was told of his passing.
"He was amazing, wonderful, and he loved everybody he employed," said Laatsch. "He wanted everybody to enjoy a good meal and enjoy life. In his new bar in Dundee, McJuggers, he had a stained glass made and it was written in Italian 'In beer there is truth' and he was so proud of that and he said that a lot."
Laatsch met Mark Jug in 1989 when she first went to MJ Stevens for a fish fry.
"Isn't it ironic that he passed away on a fish fry Friday," she said. "It's also Labor Day weekend; he employed so many and he passed away on Labor Day weekend."
Laatsch said Mark Jug always offered a place where people could come and rest their burdens.
"He was proud of his food and if you didn't like something he made sure you liked it," she said. "He touched so many lives and so many people were crying last night when Jason called and told us.
"The college kids grew up in this restaurant. They'd go away to school and then when they came home they would have their job back," said Laatsch. "It's like we were all his children."
Jug had been hospitalized since mid-August. He had been planning to open McJugger's Saloon in Dundee.
In February 2018 Mark Jug sold MJ Stevens. He said at the time…
"You know I feel it was time to go a little smaller," he said. "I've worked 32 years here."

It was 1979 when Jug took over the Long Branch in Barton. In 1985 he took over the bar that ran alongside then Highway 41. "It was called the Timber Inn," he said. Owners were John Kreilkamp and Harold Hefter.

"I leased it from them for three years and then I bought it," said Jug.

Over three decades there were plenty of memorable moments at MJ Stevens. "We had two New Year's Eves in a row that we got hit with snow storms and we lost both those nights," said Jug.

If that wasn't bad enough… "We also had two Father's Days in a row and some guy hit a pole and knocked all of our electricity out and then the next year Mother Nature hit something electrical again and down we went that year too," he said. "How the hell does that happen?"

Over the years the "traditional pub-style restaurant with an old-world traditional flavor" grew in popularity. Neighbors would wait an hour for a Friday fish fry, prime rib or Sunday brunch. The time would pass swiftly with a Bloody Mary at the bar or a traditional Old Fashioned.

Jug credits his 80 employees for making the business a success. During a recent Christmas party he made a list of all his long-time employees and read it aloud.

"When we started here it was just Brian the bartender, Manny, who is still with me, he was the server and I did the cooking and dishes," said Jug. "The first Friday we sold 25 pounds of fish and I was so happy. Now we do 600 – 700 pounds."

After a heavy pause Jug admitted he had been thinking about selling the business for a while. "It's a big place; big operation," he said. "I'm going to do something… it's going to be hard to let go here."
Scott Ritger is with the Slinger-Allenton Rotary.
"Mark was a one of a kind, a very thoughtful man who never forgot someone once he meet them. Our Slinger-Allenton Rotary club meetings were graciously hosted by Mark and his staff at MJ's for more than 10 years already when I joined the group back in 2014.

The day of my induction ceremony Mark took time out of his busy day to attend, and was standing in the back of the room the entire time. As the ceremony wrapped up he came up to me and said whenever you stop in here next, you come find me and the first drink is on me while you tell me about your goals for this incredible club.

Every time since then when we stopped in for lunch or dinner at MJ's, if Mark was there and spotted me, the first drink was already waiting.

Mark leaves behind an incredible legacy that will far outlive him. He was a dedicated man of his word and always made sure everyone was taken care of and happy. You would be hard pressed to find anyone who can fill Mark Jug's shoes."
John Fritsch:
"Hearing of the passing of Mark Jug is a sad time. He was a great person who cared and always said hi to you. Whether he knew you or not. He welcomed you to his restaurant like you were part of his family. I had a couple of his children in my classes when I was teaching. His kids were just like him, always polite and had a smile on their faces. He will be missed by all. He would put out his hand to shake when he came by your table or walking in his place. His food and service were 5 star service every time you went to eat at M.J. Stevens. Prayers and thoughts go out the family of Mark as well to all his former and current employees were also part of his family. Thank you Mark for years of service and knowing you. You will be missed ALL."
Bob Bonenfant was a frequent visitor to MJ Stevens.
"He was successful at whatever endeavor he attempted. If you were around here anytime over the past 40 years you either had a drink or something to eat at one of his places. He was a very nice guy."
Rick Taetsch:
"Mark, rest in peace, fantastic human being, the world will miss you, your kindness, caring, thoughtfulness, and deep laugh will live forever in our memories..
He provided so much joy in his personality, he enjoyed an adult beverage with his friends,
Loved his families, great businessman, heck of a restaurant owner, gave back to the community,
Made strong lasting relationships..
Mark enjoy story time with Brain. "Absolutely superb "
Randy Geier has been a friend of Mark Jugs for the last 30+ years.
"My wife,Dawn , worked for him for 30 years at MJs and I for the last 22 years. He was just the nicest, decent , most caring person I've ever met. It was a pleasure to work for him, because with Mark you weren't just an employee, you were family.
He truly cared deeply about his customers and that they have a great dining experience at MJs because with Mark the customer always came first. The things Mark did out of the public eye, the people and families he's helped are a testament to the big giving heart he had. He will be missed by so many people."

Photo courtesy Jason Jug
Funeral details will be posted when information becomes available.