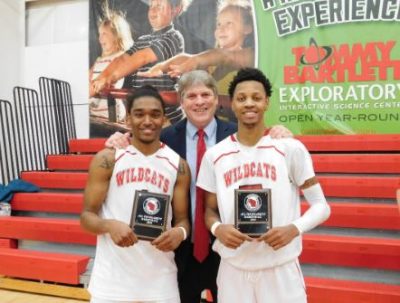 March 2, 2018 – Washington Co., WI –  Two players from the UW-Washington County men's championship basketball team were named to the W.C.C. State Basketball All-Tournament team.
Adrian Huerta and Murphy Braxton Thomas were named to the All-Tournament Team.
Huerta hails from Jones College Prep in Illinois. This was his first season with the Wildcats and he proved to be a team leader on the court.  Whenever a clutch basket was needed, Huerta came through.  In the semi-finals victory over UW-Baraboo, Huerta poured in a game high 23 points with 5 rebounds and 4 steals.  Then the next day he helped seal the championship with 15 points, 12 rebounds and 4 steals against UW-Sheboygan.
J. Braxton Thomas, who played for Bradley – Burbonnais, in Illinois is also a first year basketball player at UW-WC.  Braxton Thomas was one of the top 3-point shooters in Illinois as a high school senior last year.  In the semi-final game against UW-Baraboo he scored 16 points, 2 rebounds, 1 steal and 1 assists for the Wildcats.
Braxton Thomas was also critical in UW-WC's victory against UW-Sheboygan where he scored 18 points, 7 rebounds, 1 steal and 1 assists.