Kettle Moraine Lutheran beats Obama SCTE by 2 in OT | By Jacob Moeller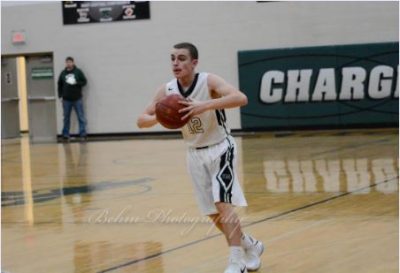 March 2, 2018 – Jackson, WI – Kettle Moraine Lutheran continued its road to state on Friday night, topping Obama SCTE 72-70 in an overtime thriller.
The two teams went back and forth throughout the first half and went into the break deadlocked at 29.
The Cougars took control early in the second half, pulling in front 52-46.
Enter Jacob Stoltz. The sophomore hit three-pointers on three consecutive possessions, sparking KML to a 12-0 run.
Stoltz finished with a team-high 21 points on the night, including 5 three-pointers.
Obama SCTE rallied to tie the game at 59, forcing an extra period.
In the four minutes of overtime, Stoltz was back on the mark, hitting another clutch three to open a 4-point lead for the Chargers.
KML never looked back, holding on for the two-point victory.
Andrew May and Solomon Zarling each posted double-doubles, May with 12 points and 10 rebounds, Zarling with 14 and 11. Grant Biesterfeld played the entire 40 minutes, driving the Charger offense while posting 7 points and 7 assists.
The win puts KML through to the regional final, where it will take on top seed Brown Deer Saturday night.
Photo is of Jacob Stoltz, courtesy of Diane Behm