Unveiling Phase 1 construction at Good Shepherd Ev. Lutheran Church in West Bend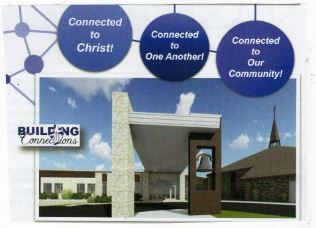 May 8, 2018 – West Bend, WI – On Sunday, May 6 parishioners at Good Shepherd Ev. Lutheran Church, 777 S. Indiana Ave., in West Bend had their first meeting in their new fellowship room.
The room has a capacity of 150 people. The $3.2 million Phase 1 construction project is fast approaching the completion stage.
At the meeting updates were presented including construction of the new fireside room, elevator, library, classrooms, heating and air conditioning system, security system, storage areas, and offices.
Over $50,000 has been saved by volunteers doing painting and staining and helping with other construction needs.
Members were also given the opportunity to donate money on items not in the Phase 1 budget including appliances, furniture, window dressings, etc.
The church's theme is "Connected to Christ," "Connected to One Another," and "Connected to our Community."