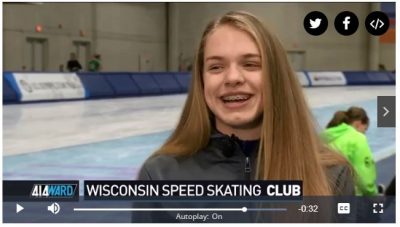 Feb. 8, 2018 – West Bend, WI – No better time to release details on the 2018 Amazing Ride for Alzheimer's then when an Olympic hopeful, who will be tagging along on this year's tour, is on Milwaukee TV.
Audrey Steffes, 15, is my niece and she was recently featured on TMJ4 in an Olympic-preview piece about the Wisconsin Speed Skating Club. As you hear in the video, the great thing about the club is how the participants are able to skate alongside some of the current Olympic athletes including Mitch Whitmore, Shani Davis, and Brian Hansen.  Click HERE to watch the video.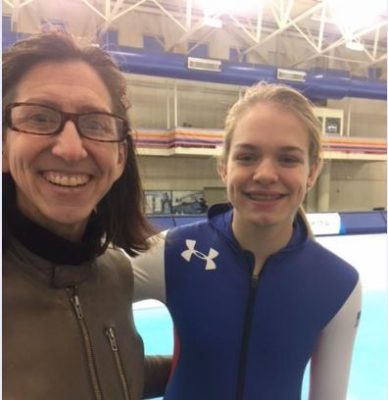 Audrey is a freshman at Milwaukee Rufus King and she's a fabulous athlete. She will be touring with me this summer as we head out on a bicycling adventure to raise money and awareness for Alzheimer's. This year, following a request from Bike Friendly West Bend, the tour will raise money for a rickshaw bicycle to be donated to The Samaritan Home in West Bend.
The bicycles cost about $10,000 and they allow seniors to be able to enjoy the exhilaration of bicycling again.
On a side note: This will be a rather large learning curve to have someone pedaling with me on tour. Normally this is a solo adventure. However, Audrey and I did a 20-mile test ride and since we didn't have to call the cops on each other – we figure we can be pretty compatible on the road for three weeks.
The early thought is to bicycle around the entire state of Wisconsin, crossing over into Minnesota, Michigan, and Illinois although those plans are bound to change on a teenager's whim.
More details on the 2018 Amazing Ride will be forth coming. Donations are tax deductible. Make checks payable to the Samaritan Campus, 531 W. Washington Street, West Bend, WI 53095. The FEIN No. 396005754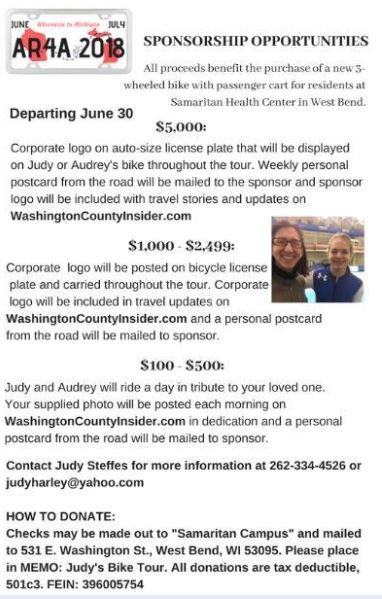 All money stays within Washington County and 100 percent will be donated to a bicycle for the residents at The Samaritan Home in West Bend.