Update on gas prices across Washington Co. shows fluctuation from $2.29 to as low as $2.14 By Ruth Marks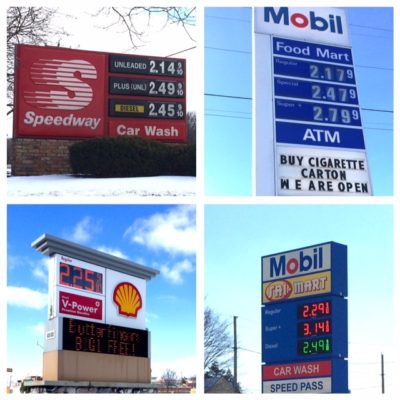 Feb. 6, 2017 – Germantown, WI – A Sunday afternoon drive showed gas prices continue to fall slowly throughout the Washington County area, however there's real variation between towns.
Allenton is highest at a consistent $2.29 for a gallon of regular unleaded. Most West Bend stations are charging $2.25, with a couple still at $2.29.
Kewaskum is at $2.24 and $2.25, and $2.21 for cash.
Addison Station shows $2.21, Slinger is at $2.19 and $2.23, and Jackson stations have a consistent $2.19.
Most Hartford stations were charging $2.19, but one was down to $2.17.
Our southern neighbors in Germantown have a range of $2.13 to $2.17, with most stations charging $2.14.