March 13, 2017 – Slinger, WI – About 35 people are safe at Slinger High School as rescue crews bused them out of a hazardous traffic pileup on I41 just south of Highway 60 on Monday morning.
"We have them sitting in the cafeteria. We're giving them coffee, hot chocolate and water and making some popcorn so they have something to eat," said Principal Phil Ourada. "We had the bus come in and one person arrived by ambulance but everybody's fine."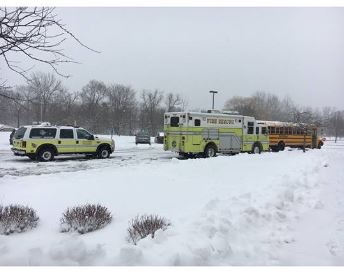 People were taken by bus to the high school around 1:30 p.m.  as rescue crews worked to clear traffic off I41 following a major series of back-to-back accidents.
Ourada confirmed there were no infants or elderly dropped off at the school.
At 2 p.m. the people involved were working to get to Richfield and Pioneer Plaza to pick up their vehicle.
UPDATE: Posting below was just submitted by the DOT
Due to numerous traffic incidents along I-41 southbound, between WIS 144 and Sherman Road, travelers are advised to avoid the corridor and to seek alternate routes. Currently, I-41 southbound is closed at WIS 144 with southbound traffic being directed to exit at WIS 144, to head south onto WIS 175 until WIS 60, east on WIS 60 to US 45 southbound and then back onto I-41.
Also, the I-41 northbound and southbound exit ramps at WIS 60 have been blocked by traffic incidents.
As always, use
511wi.gov
for up to date information and travel times.
Photos courtesy Phil Ourada.  Thanks coach!