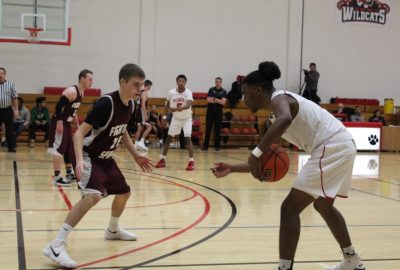 Jan. 30, 2018 – Washington Co., WI – The UW-Washington County men's basketball team trailed early against a tough and talented UW-Sheboygan team, but the Wildcats used its depth to pull out a 3-point win at UW-Sheboygan, 72-69.
In their previous meeting Dec. 4 in West Bend, the Wildcats also edged the Wombats by two, 79-77.
With the victory, UW-Washington County clinches at least a tie for the Wisconsin Collegiate Conference Eastern Division championship, an accomplishment that has previously only happened once for the Wildcats in 1979.
In 50 years, the Wildcats have never won the post-season conference tournament, though they did advance to the championship game last season, coming up short 73-68 to UW-Waukesha at Just a Game Field House in Wisconsin Dells.
In the win Monday night over UW-Sheboygan, UW-Washington County was led statistically by Ahmad Pender, Jr. with 18 points and 6 rebounds, AJ Barnes, Jr. with 15 points and 6 boards, and Adrian Huerta with 12 points.
J Braxton Thomas celebrated his 19th birthday with a hat trick of 3-pointers and 2 free throws for 11 points.  Koy Walsh played outstanding game-changing defense throughout the game and also hit the game-deciding basket finishing with 4 points.
For the second consecutive game, the Wildcats rotated well in help defense and sacrificed their bodies and took four charges defensively.
David Wiley, Jr, played amazing defense, giving away as much as 7 inches in height helping cover Sheboygan's big three that go 6'9, 6'8, and 6'8.  Sophomore point guard Derrick Chaney showed his quickness, advancing the ball down the floor leading the Wildcats transition game.
The "Fearless Hoosier", Trenton Walstra, along with teammates Tariq Frett, Sam Krause, Ross Riegleman, and Mitchell Behm, each made an impact, hitting some clutch shots, grabbing some hard-fought rebounds, making some great passes, playing exceptional defense, and also provided tremendous encouragement for the full 40 intense minutes of the game.
As a team, the Wildcat continued to improve in taking care of the ball and had a season low in turnovers with 11.
UW-Sheboygan was led in scoring with 19 points from 6′-8″ power forward Alex Antonie who will be transferring to play at Lakeland College next season.  Sharpshooting guard Vinny Montazella added 18 for the Wombats.
UW-Washington County is 12-0 in conference play, including 5 exciting wins by between only 2 and 4 points.
Next up, the Wildcats travel to UW-Fox Valley in Menasha on Wednesday, Jan. 31 for a 7:15 p.m. start.