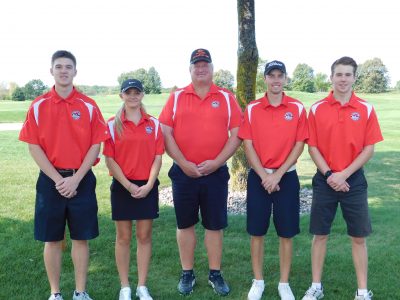 Sept. 19, 2017 – Washington Co., WI – The UW-Sheboygan Wombat Invite was held Monday at The Bull at Pinehurst Farms. The invite is a good preview of the state meet with all the Wisconsin Collegiate Conference Golf Teams competing. 
UW-WC Wildcat Golf Team members: Sam Krause, Ryan Rausch, Kevin Albrecht, and Nikki Differt, finished in 1st winning the invite by a three-stroke margin over host UW-Sheboygan. 
Sam Krause earned 2nd place honors and Ryan Rausch earned 4th place honors. 
Coach John Minz thought 2nd year player Albrecht summed up the day perfectly when he said, "We won but we have room for improvement."  
 The Wildcats will try to extend their win streak at the UW-Waukesha Invite held at Ironwood Golf Course on Thursday, Sept. 21.