UW-Washington County scores solid victory over UW-Rock County
Dec. 7, 2016 – West Bend, WI – The UW-Washington County mens basketball team roared to an 89-55 victory Wednesday night in West Bend versus UW-Rock County from Janesville.
All 11 players on the Wildcats' roster received quality minutes and scored at least one basket in the game.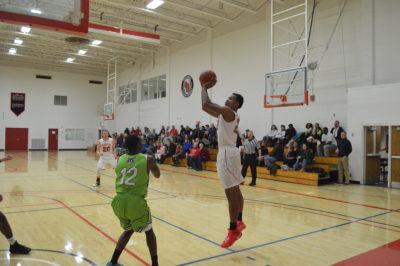 Dre Johnson scored 23 points, hauled in 10 rebounds, and blocked 6 shots all in only 19 minutes of game action.
Freshman Rashaun Jackson scored 14 and blocked 2 shots.  Randy Howard accounted for 13 points, adding a pair of steals.  Evan Rathke scored 13 and blocked 2 shots.  Derrick Chaney had 6 assists with 5 rebounds.  Aaron Rathke added 6 rebounds, 3 assists, and 3 steals.  Shaun Fischer scored 10, while Javon Williams dished out 5 assists and collected 5 rebounds for the Wildcats who led 49-23 at halftime.
The final December game for UW-Washington County is at UW-Baraboo Monday, December 12.