UW-WC Community Lecture Series on Oct. 25 will focus on Brexit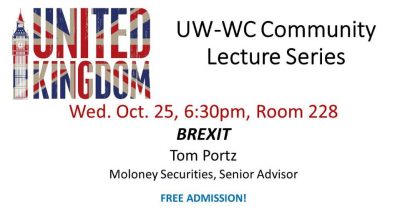 Oct. 21, 2017 – Washington Co., WI –  UW-Washington County is focusing on the United Kingdom this fall during its annual community lecture series. Each one-hour lecture begins at 6:30 p.m. and is followed by a question/answer session.
Topics for this year's popular series included the History of England, Healthcare in the UK, Scottish Photography, Women Philosophers, Shakespeare and Brexit.   All events are free and open to the public.
All lectures are in room 228.
October 25: Brexit with speaker Tom Portz, Moloney Securities, Senior Advisor, Milwaukee.
UW-Washington County is located at 400 University Drive in West Bend (exit Hwy. 33 East). Visitors should use the main entrance and follow the interior directional signs. Free parking is available. More information is available on the campus website at washington.uwc.edu.