UW-WC drops a game to the undefeated UW-Marathon Huskies | By Jacob Schmick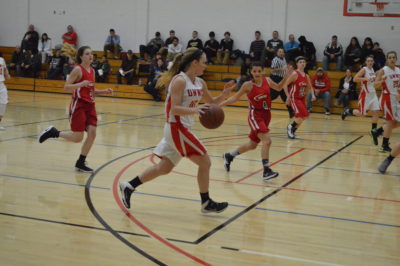 Feb. 9, 2018 – West Bend, WI – Another tough shooting night for the UW-WC Wildcats as the team lost to UW-Fond du Lac 64-41.
The Falcons held a double-digit lead for a majority of the first half and went into halftime with a 31-20 lead.
The Wildcats clawed their way back through the third quarter using a quick 6-0 run to cut the deficit.
The Wildcats finally got some shots to fall and turned up the defensive pressure holding UW-Fond du Lac to 27 percent shooting.
UW-Washington County cut the lead 39-34 with two and a half minutes left in the third quarter, but after a Falcon timeout, UW-Fond du Lac regained momentum and opened the lead back up to nine.
The Falcon's defense proved to be too much for the Wildcats as they came away with a 23-point victory.
The Wildcats were lead in scoring by Greta Strasser with 13 points.  Marissa Kaul lead the team in rebounding with 10 rebounds, and Meghan MacFarlane lead the defense with two steals and one block.
The Wildcats play the second part of back-to-back games tomorrow, Saturday, Feb. 10 at UW-Barron.  Tip off is at 2 p.m.