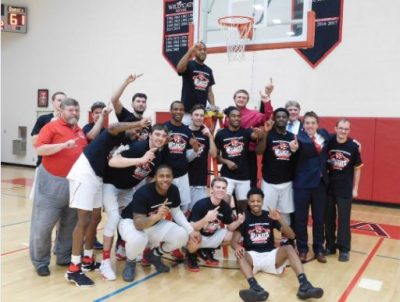 Feb. 9, 2018 – Washington Co., WI –  With all 13 players dividing up the minutes of action and each hitting the scoring column for the Wildcats, the University of Washington County men's basketball completed an undefeated conference season with a 100-61 victory over UW-Fond du Lac Friday night in West Bend.
There were a pair of teams that UW-Washington County did not play in conference this season.  In January, UW-Barron cancelled their season 3 days before the Wildcats were scheduled to play them.  And also in January, UW-Rock County failed to show up for their scheduled game in West Bend, then when the game was rescheduled, it was cancelled again due to the lack of referees.  The game was rescheduled again for Monday, February 12, but likely will not be played unless it matters in the Western Division standings.
On Friday, trailing 3-2 in the early going, the Wildcats took control of the game with an up-tempo 20-0 run.  As a team, the Wildcats had a season low 10 turnovers, and out-rebounded the Falcons 51-28, while shooting 47% from the floor and 81% from the line.
Statistically for UW-Washington County, Ahmad Pender, Jr. scored 14 including a spectacular back door dunk on a perfect pass from his former high school teammate, David Wiley, Jr..  AJ Barnes, Jr. had another double-double with 13 points and 10 rebounds.  Derrick Chaney scored 12 and added 3 assists.  Adrian Huerta also scored 12 and had a pair of steals.
Mitchell Behm scored 8 points.  Koy Walsh hauled in 10 rebounds and scored 7 points.  David Wiley, Jr. added 7 points with 3 assists and a pair of steals.  Ross Riegleman and Trenton Walstra each scored 6.  Tariq Frett and J Braxton Thomas each scored 5.  Sam Krause had 3 points, and Domonique McCullum hit a 15 footer on his only shot attempt, scoring in his first game played in a Wildcat uniform.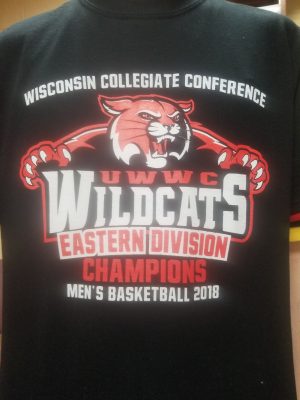 After the game, the members of the Wildcats team cut down the net at the east end of the gym in celebration of their 2018 Wisconsin Collegiate Conference Eastern Division championship, as they also busted out their new commemorative championship T-Shirts for the occasion.
The team will travel to Oshkosh tomorrow night to attend the Wisconsin Herd G-League game against the Long Island Nets, then return to the gym Monday to prepare for the WCC playoffs.
The Wildcats will receive a bye in the first round and will play Saturday, February 17 in West Bend, facing the winner of the #4 and #5 seed game (seeds will be determined after the games this weekend).