UW-WC Festival of Arts is Saturday, April 9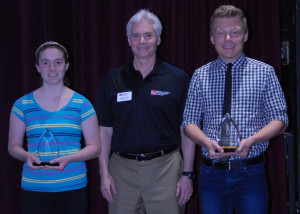 UW-Washington County (UW-WC) is gearing up to host its annual Festival of Arts on Saturday, April 9 from 10 a.m. to 4 p.m.
The popular festival features a juried art sale with over 55 artists who will fill the gymnasium and lobbies, while the hallways will be decorated with over 300 pieces of top student artwork submitted by 28 area middle and high schools.
A farmers' market, photography display, art seminars and children's make and take it art projects, round out the campus wide event. 
New this year are a silent auction and a beer and wine tasting area.
Nina Jones, Executive Director of the Washington County Campus Foundation is managing this year's event. For more information, please contact her via email: [email protected] or phone 262-335-5204.
Judging for the student art and photography contests takes place on March 22 – I will release names of the top winners & photos to you by March 23.
Photo: Top student winners from 2015 pose with Dean Paul Price. Students are Emily Groth and Joe Koslowski.