UW-WC improves to 9-1 and drops UW-Sheboygan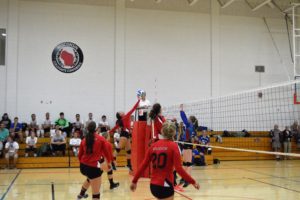 The Lady Wildcats won its match against UW-Sheboygan 25-13, 25-14, 25-21.
Amber Herbst led the team with 9 kills on 17 attempts, served at 100% with 3 ace serves and 2 digs.
Courtney Peters, Savannah Jenz and Michaela Millard each had 6 kills.  Courtney also has 11 digs.
Atira Boyce has 27 assists for kills, and 5 ace serves.
"The team came to play in the first set, serving touch and running the quick offense," said coach Deb Butschlick.  "In the second set we let our guard down for their first 8 points, but we found the team chemistry to pick up the pace. 
"In the third set UW-Sheboygan had a few short serving runs on us, but our defense in the end with the passing of Marisa Moser helped us to pull out the win."
Moser finished the game with 19 digs.
UW-WC improves to 9 – 1 overall and 2 – 1 in the WCC Eastern Division Conference.
The Wildcats play Wednesday at UW-Waukesha at 5 p.m.