UW-WC mens team extends win streak to 6 games with a victory over UW-Manitowoc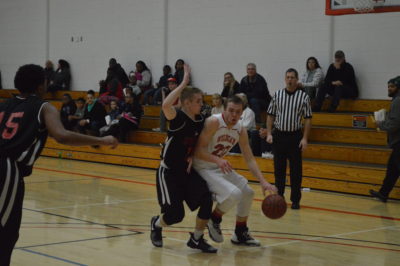 Dec. 1, 2016 – West Bend, WI – The UW-Washington County mens basketball team ran its winning streak to 6 games on Wednesday night with a hard fought 79-69 victory over UW-Manitowoc.
The Wildcats' high energy multi-changing team defenses held UW-Manitowoc to just 35% shooting for the game while the Wildcats shot 43%.
For UW-Washington County, Dre Johnson collected a double-double with 20 points and 11 rebounds while adding 3 blocked shots.  Aaron Rathke had a season high 21 points with 5 rebounds.  
Evan Rathke scored 18 on 64% shooting, and added 4 assists and 4 blocked shots.  Javon Williams led in steals with 5 and dished out 4 assists.  Shaun Fischer grabbed 10 rebounds and had 6 points.  
Randy Howard scored 7, with 3 assists and a pair of steals while defensively holding Jemale Brown, the conference's leading scorer below his season average.
The 6-2 (5-0 in conference) Wildcats host defending Eastern Division Champion and undefeated UW-Waukesha (8-0) on Monday, Dec. 5 in a 7:15 p.m. tip-off.
The game in West Bend, which will feature the two remaining undefeated in divisional play teams, poses a major challenge for the Wildcats, since the Cougars have scored over 100 points in 50% of their games and have an average margin of victory of an amazing 33 points per game.
Photos courtesy Nick Bast – Student Photographer