UW-WC Student Spotlight: Vanessa Sawatzke – earn a degree in engineering through the collaborative program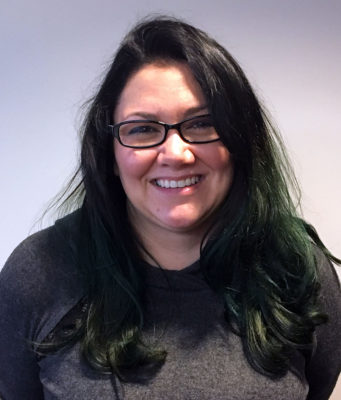 Feb. 1, 2017 – West Bend, WI – UW-Washington County is beginning a new Student Spotlight that will feature one student each month through May. The purpose is to highlight the academic achievement and provide the community with an inside look into campus life and a greater understanding of the diverse profiles and experiences of our students.
Name:  Vanessa Sawatzke  Age:       38
Hometown: West Bend  Major: Electrical Engineering
High School you graduated: Dominican High School
Why did you choose UW-Washington County?  I chose UW-WC because it is very close to home. I have the opportunity to earn a degree in engineering through the collaborative program with UW-Platteville without ever leaving West Bend. It is very convenient!
Outside of being a college student, what takes up your free time? I am married with four children ages 5 to 15 so I don't have a ton of free time, but when there is I like to read, camp, and work on home-improvement projects.
Who is your favorite professor or staff member? Dr. Anne Widmayer (English) is my favorite professor because she makes class engaging and encourages conversation and interaction with other students.  I really enjoy taking classes with her.
What is your favorite class?  Introduction to Film with Prof. Chris Yogerst.  I've always enjoyed watching movies but never put a lot of thought into the influences that the industry has on society and vice-versa. It was fun watching and discussing different films.
What do you plan to do after UW-WC?  Since I am going through the Platteville Collaborative program, after I complete my Associate degree, I will stay on the UW-WC campus while I earn my bachelor degree from UW-Platteville.  After I earn my bachelor's, I hope to get a job in my field of study.

UW-Washington County is located at 400 S. University Drive in West Bend.  The campus serves as an affordable access point to the UW System, offering a quality education to area students, with the lowest tuition in the UW System, along with small class sizes and dedicated faculty. 

For more information about the campus or the collaborative degree programs, visit the website, washington.uwc.edu