UW-WC suffers tough loss in the first-round at WCC state tournament. By Jacob Schmick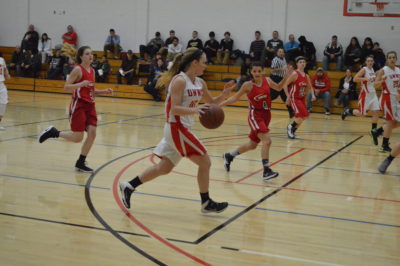 Feb. 25, 2017 – West Bend, WI – The UW-WC Wildcats lost a tough game against the Lady Buccaneers on Saturday night at the Wisconsin Collegiate Conference state tournament.
Both teams struggled from the floor however, UW-Marinette soon found its rhythm and took a 24-15 lead into quarter two.
The Wildcats fought back and trailed by eight points going into the half as the team knocked down 10 – 14 free throws.
The Wildcats cut the lead to four points early in the second half, and the two teams continued to battle throughout.
The Wildcats were able to contain UW-Marinette's Tori Wangerin to just 14 points and 12 rebounds throughout the night.  This helped the Wildcats cut the lead to six heading into the fourth quarter.
For most of the fourth the Lady Buccaneers controlled the tempo and the game.  Every time the Wildcats made a run the Buccaneers answered back.
In the final minutes UW-Washington County went on a tear, forced a couple turnovers and hit big shots to cut the lead to four.
Megan Breuer, who lead the team with 24 points, had a couple baskets in the lane to spark the run.
Eventually, the lead was too much to overcome and the Buccaneers won the game 86-78.
Kim Zimmel added to the scoring with 18 points and 9 rebounds.
Ciara Dricken added 16 points and 2 steals, and Holly Hamm added another 14 points and 6 rebounds.
The Wildcats scored the second most points in a game this season and shot a season high 45% from the field.  The Wildcats are proud of the way they finished the season and want to thank everybody that supported them.
They appreciated every single person that came and cheered this season.  Once again, from the bottom of our hearts, thank you.