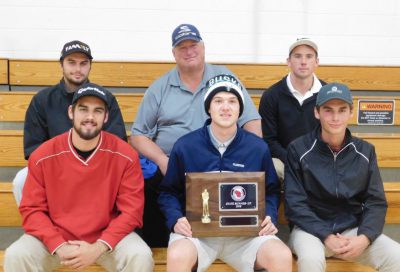 Row 1 (L to R)  Conner Tranel, Kevin Albrecht, Brad Halverson
                                                        Row 2 (L to R)  Erick Hanschke, Coach John Minz, Ryan Rusch
Oct. 3, 2018 – Washington Co., WI – University of Milwaukee at Washington County Wildcat Golf team wrapped up its season this week with a strong 2nd place finish at Wisconsin Collegiate Conference State Golf tournament. 
The 2 day, 36-hole event was held in mist and rain at Mascoutin County Club in Berlin, WI. 
UW-Green Bay at Marinette won the tournament with a team scored of 657 with the Wildcat team score of 681. 
Wildcat Coach John Minz said, "I am proud of all (10) of the players.  Everyone did a great job when they got their chance to play on the traveling team.  Despite the weather conditions, each player performed to the top of their talent." 
All five players for the Wildcats finished in the top 13 out of 27 student athlete golfers. 
This is the third year in a row the Wildcats have played in the top two positions at the WCC State Tournament. 
A great core of players is expected to return next season.