Woman crashes into Big Cedar Lake after missing stop sign at State Hwy 144 and CTH K
Oct. 3, 2018 – Big Cedar Lake, WI – Nobody was hurt following a single-vehicle accident early Wednesday morning at State Highway 144 and County Highway K.
Washington County Sheriff Dale Schmidt said a woman from Fond du Lac was eastbound on CTH K and failed to stop at the intersection, continued east and ended up in Big Cedar Lake.
The accident happened shortly after 4:30 a.m. on Oct. 3.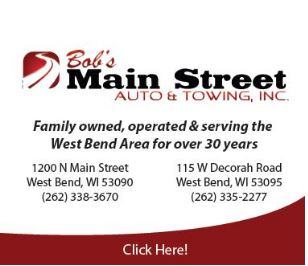 "Another motorist called it in. That person said the woman was driving erratically around I41 and CTH K," said Schmidt. "The woman missed the stop sign at the bottom of the hill and drove into the lake and landed half on the pier."
Schmidt said alcohol was not a factor in the accident nor a medical condition.
The woman, 38, told authorities she was on I41 and missed her exit. She got confused and took CTH K and was driving at a high rate of speed and didn't see the stop sign or the intersection.
A citation will be mailed to the woman. Schmidt said she was not injured.