Verizon Wireless agrees to $10,000 annual increase in lease of Barton water tower and city awards design contract for new Rolfs Avenue Extension.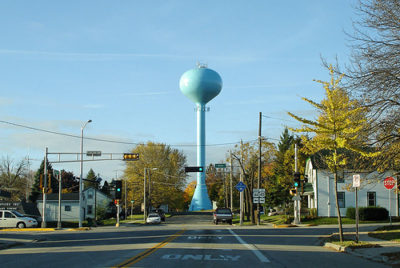 March 7, 2017 – West Bend, WI – The West Bend common council approved a new lease agreement with Verizon Wireless for the Barton water tower.
The initial lease started in 1997. The prior lease agreement was $17,280 a year; the new agreement is $27,000 with an annual escalator of 2%.
The contract can be renewed for four additional terms of five years each. Money collected goes into the city's general fund. The new agreement starts March 25, 2017.
A couple other items approved during Monday night's meeting:
-A bid of $52,328 was approved to Dan Larsen Landscaping for a tree surety contract. That includes planting 262 trees within eight subdivisions, streetscapes and various street tree locations. Various watering cycles and hand digging planting holes are included.
-The council also approved $60,000 for a new barn roof at Lac Lawrann.
-A contract for $8,116 was awarded to TADI out of Cedarburg so it can monitor Main Street traffic counts and signal timing. TADI will also monitor turning traffic at the intersection of Paradise Drive and Parkway Drive. That data will be reviewed to see if some changes in signal timing will be needed because of added traffic because of Kwik Trip and the Meijer development.
-Kunkel Engineering Group of West Bend was awarded a contract for $42,954.50 to design a road plan to build a connector street between Rolfs Avenue and Schmidt Road. Within the next 2 years the city is going to vacate a portion of Schmidt Road over by the Washington County Sheriff's Department. It'll be between E. Washington Street and Creek Drive. The connector street has to be in place ie Rolfs Avenue Extension. The city has to design and build the connector street at its own expense. The county is kicking in $125,000 upon completion of the road.
Photo courtesy Mapio.net