VIDEO | Russ Darrow breaks ground on new dealership. "You see the beautiful stores with Heiser, Toyota, Chrysler and now this."
March 6, 2017 – West Bend, WI –  Russ Darrow was joined by a handful of community leaders on W. Washington Street on Monday morning to break ground on a new Nissan dealership.
Darrow climbed into the bed of a red pickup and reminisced about his first store on S. Main Street in West Bend. "We've been here 52 years and I remember my first store, a Chrysler dealership in 1965 on S. Main Street where the McDonald's is," he said.   "This is going to be a regional shopping center for a lot of things including autos."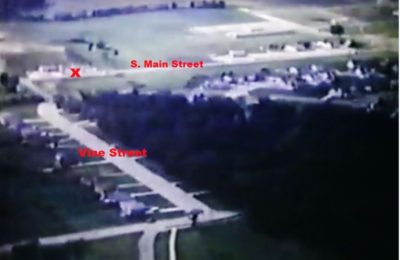 Take note in the 1956 aerial photo courtesy Kirk Dyken that Vine Street was the southern edge of town; nothing but cow pastures beyond!
Terry Becker recalled the Darrow dealership on S. Main Street, "That's where my parents bought our brand new 1966 Plymouth Valiant station wagon, one of the ugliest cars ever built! (IMHO) Scheif's Sinclair Station was just to the south on the corner of S. Main and Vine. Old Cemetery Hill was just to the north (leveled for Aldi's, graves moved to Holy Angels Cemetery). St. Frances Cabrini School is visible in the upper right."
Prior to starting his own dealership Darrow sold cars for Heiser Ford. "I was 20 years old and I owned an Austin-Healey and I wanted to buy an economy Ford Falcon," he said. "I figured out how to sell it and get the Falcon and the car dealer encouraged me to try selling cars for six months because he said I was good at sales."
Under cloudy skies and with Mayor Kraig Sadownikow at his side, Darrow praised other local dealerships and spoke about how this would be beneficial for the entire county.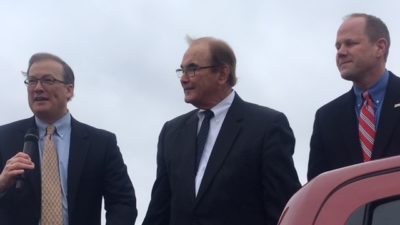 Sadownikow joined Darrow for a trip down memory lane as he recounted the time spent 30 years ago washing cars for Darrow during spring break.
"Based on the extra amount of land you have, hopefully we'll be back here again sometime soon," he said.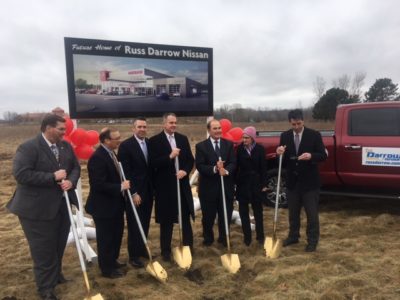 There is some speculation Darrow may be awarded the Hyundai brand for West Bend. When questioned about that possibility Darrow declined comment.
The property to the east of Darrow's lot is also open for development. That parcel was formerly targeted for development of The Pizza Ranch.  The Nissan dealership project has been classified as "Phase 1 of the process."