VIDEO | Allan Kieckhafer honored with the Cliff and Betty Nelson Award
Nov. 1, 2018 – West Bend, WI – Allan Kieckhafer of West Bend is this year's winner of the Cliff and Betty Nelson Volunteer Leadership Award.
During an interview Thursday morning at Kieckhafer's home overlooking Big Cedar Lake the 94-and-a-half year old spoke enthusiastically about his dedication to West Bend.
Kieckhafer noted, the only other time he had been this thrilled about being recognized was when Betty Pearson with the West Bend Chamber of Commerce recognized him in May 1987. It was a day the mayor proclaimed Allan Kieckhafer Day.
Over the years the Kieckhafer has spent his time, talent and treasure giving back to the community. Those qualities are something the past winners of the award look for in a recipient.
The United Way of Washington County created the Clifford A. and Elizabeth M. Nelson Volunteer Leadership Award to honor an individual in Washington County who has demonstrated a long-term commitment to volunteering.
The award is named in honor of West Bend resident Cliff and his wife Betty, known for their outstanding volunteer efforts on behalf of human service, civic, and arts organizations.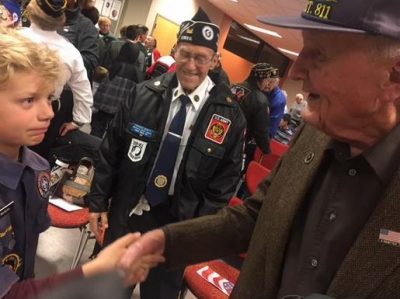 Kieckhafer is a strong advocate for the Boy Scouts, Kieckhafer has also been a supporter of the Museum of Wisconsin Art, Veterans in West Bend and UWM at Washington County.
Friend Nancy Mehring worked for Kieckhafer when she was 18 years old. "He was my boss at the West Bend Aluminum Company," said Mehring. "Allan is a doer as well as a giver. He is the most lovable man, he always has a smile for everyone and the best thing about him when I worked for him was he was always kind and a gentleman."
Betty Nelson said she has known Kieckhafer since they went to Sunday school and kindergarten together. "It's good he got the award because Allan has been involved in more stuff than you can imagine," she said.
"He's always been the chairman for the Memorial Day celebration and Veterans Day, Kettle Moraine Symphony, the Museum of Wisconsin Art, UW-Washington County, and he's been in scouting for years.
"He's very loyal to friends," said Nelson. "When people in our high school class died from the Class of 1941, he still went to their funerals. They may not have been much of friends through the later years but he's so loyal."
Previous winners of the award were part of the selection committee and Kieckhafer was a unanimous choice.
Click HERE for more information on the Cliff and Betty Nelson Leadership Award.