VIDEO: Allenton Firefighters praised for their response to emergency at Allenton Elementary
Dec. 21, 2016 – Allenton, WI – Wednesday evening the Allenton Volunteer Fire Department received a commendation from the Washington County Board for the positive outcome following a fire call at Allenton Elementary School on October 19.
Presenting the award to Allenton Fire Chief John P. Breuer were County Board Chairman Rick Gundrum and Dist. 6 County Supervisor Denis Kelling.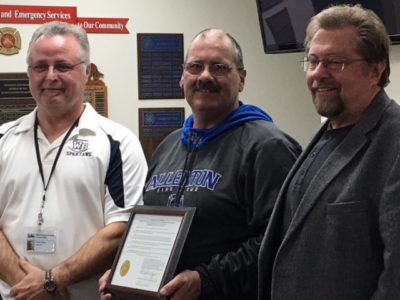 The following letter was sent from Slinger Superintendent Darren Sievers
Dear Slinger Parents:
This morning, shortly after students arrived at Allenton Elementary, a fire alarm went off prompting the building to be evacuated. Given the uncertain circumstances, the combined team of the Allenton Fire Department and St. Lawrence Fire Department determined that students could not return to the building until they had more information.
Facing an extended span of time out in the cool conditions, students were directed to board buses made available by Riteway and proceed with our long-term evacuation procedures. From that point students were bused to the high school gymnasium until the source of the alarm could be identified and conditions were deemed safe.
Upon arriving at SHS students were led to the gymnasium where the band and choir programs conducted impromptu concerts for the Allenton students as they awaited word on conditions at their school.
By 11:00 a team of school personnel, fire department personnel, and an electrician determined that a failing uninvent blower engine was the source of the alarm sounding. Once the motor was disabled, the fire chief, John Breuer, gave us the all clear to return to school.
Before returning to Allenton, the high school food service team quickly pulled together an emergency lunch for all 400 Allenton students and staff and shortly after 12:15 p.m. they were all fed and ready to be bused back to Allenton to resume their day.
A morning that started with some significant concern ended up turning out to be a tremendous case study about the power of flexibility, teamwork, and resourcefulness. One of the Allenton students called it her "best day ever."
Big thanks to all of the teachers, support staff, custodians, cooks, fire personnel, and administration who worked together to make this concerning day turn out just fine. Special thanks to the SHS music programs for keeping the students distracted from the concerning circumstances taking place back at their school.
The goodness and positive attitudes that are present in Slinger School District and Slinger Community never cease to amaze me and we are deeply thankful that everything turned out OK.
Sincerely-
Daren Sievers
Superintendent