VIDEO | Breaking ground for Cobblestone Hotel and Wissota Chop House in Hartford
Sept. 13, 2017 – Hartford, WI – Groundbreaking in Hartford today as Cobblestone Hotel celebrated its newest addition. The hotel on Highway 60/ 110 E. Sumner Street will be built along with Wissota Chop House restaurant.
Jeremy Griesbach, a 1992 graduate of Hartford Union High School, is the president of development with BriMark Builders, LLC a division of Cobblestone Builders. He felt there's always been a missing piece to the hotel puzzle in Hartford.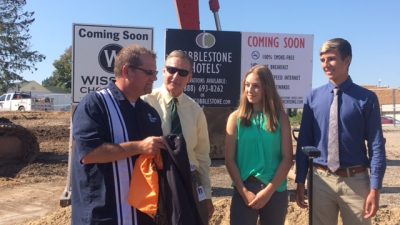 "For the past 20 years of so I've always thought we were missing that business hotel in town and that quality lodging," Griesbach said. "We were always losing those people to the surrounding communities and anytime somebody doesn't stay here they're not eating here or buying gas here and now we're finally getting something done."
There were a number of local business leaders that gathered in the empty lot on Park Avenue across from the Jack Russell Memorial Library including Hartford mayor Tim Michalak, city administrator Steve Volkert, and Hartford Chamber executive director Scott Hanke who said the development is definitely a "shot in the arm for the community."
"This especially helps with tourism as we now have places to stay and play as well as another dining option and 60 more rooms," he said.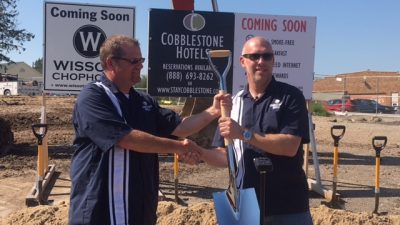 The city of Hartford will give Cobblestone Builders an incentive of $650,000 when hotel occupancy is approved. Cobblestone basically purchased the property for $1. Griesbach said their deal with the city includes a commitment of "a minimum of $110,000 in property taxes a year for the next 10 years."
Brian Wogernese is with Cobblestone Builders. "Since 2015 we've been talking about adding more lodging for business clientele here in Hartford,"said Wogernese.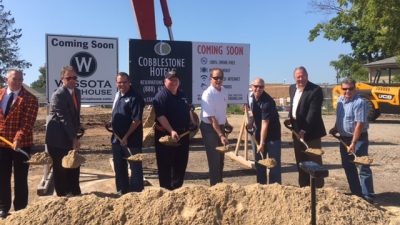 City administrator Volkert, dressed in a brilliant orange tie, said "this is a good first step to development of the TID."
"This will hopefully lead to more development because it's like keeping up with the Jonses in the downtown; hopefully this steamrolls," said Volkert.
Contractors have already broken ground on the project, which is just a block east of The Mineshaft.
Wogernese said they're working to get the "footings in before winter and start framing" the project should be finished by summer 2018.
Click HERE to see designs for the new hotel.