June 4, 2017 – West Bend, WI – Despite the rain Saturday morning there was a pretty significant turnout for the West Bend Farmers' Market. Neighbors enjoyed the free meat at the Tennies Ace Hardware tent as the fellas put The Green Egg Grill to use cooking up turkey and ribs and even a loaf of bread.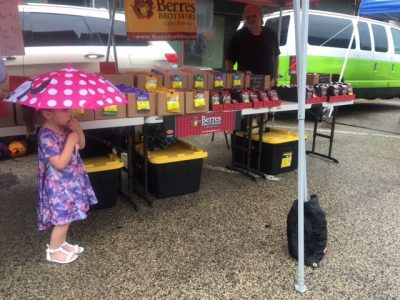 Tommy and Kathy Schwai were in the neighboring booth and Tommy gave the grill rave reviews.
Ponchos and umbrellas were protocol for the day… but nobody melted.
Stay tuned for a video with the owner of Elsie Mae's Canning & Pies out of Kenosha, Wis.
The award-winning Downtown West Bend Farmers' Market is brought to you by the Downtown West Bend Association.