March 4, 2023 – Hartford, WI – Law enforcement from Hartford, Fond du Lac, Cedarburg, Dodge and Washington Counties joined along with their K-9 units at the Hartford Animal Clinic for a final tribute to Hartford Police K-9 Officer Cash who was sent over the Rainbow Bridge on Friday, March 3, 2023, with his owner Officer Nate Dorn standing at his side.
Cash served for more than nine years retiring in 2021; within the last year he suffered an aggressive cancer.
Click HERE to SUBSCRIBE to FREE local news at
"Obviously it's a very somber day," said Hartford Police Chief Scott MacFarlan. "For all of us canine Cash wasn't just a dog, he was a partner and a dedicated partner of officer Dorn. To lose a canine resource like that it's tough for all of us and we're all here to give our final salute to what was a great relationship with a canine for nine years, seven months and 28 days."
"Cash brightened everybody's day," said Officer Joshua Krick. "Everyone was always happy to hear Cash was in the building; you know he's just it was a great worker and there was nothing he wouldn't do for Nate and there was nothing Nate wouldn't do for the dog."
Skies were grey and temperatures hovered around 31 degrees as a procession of squads with lights flashing crested the hill on Grand Avenue. The family of law enforcement making its way from Hustisford Town Hall to the clinic around 9:30 a.m. Friday.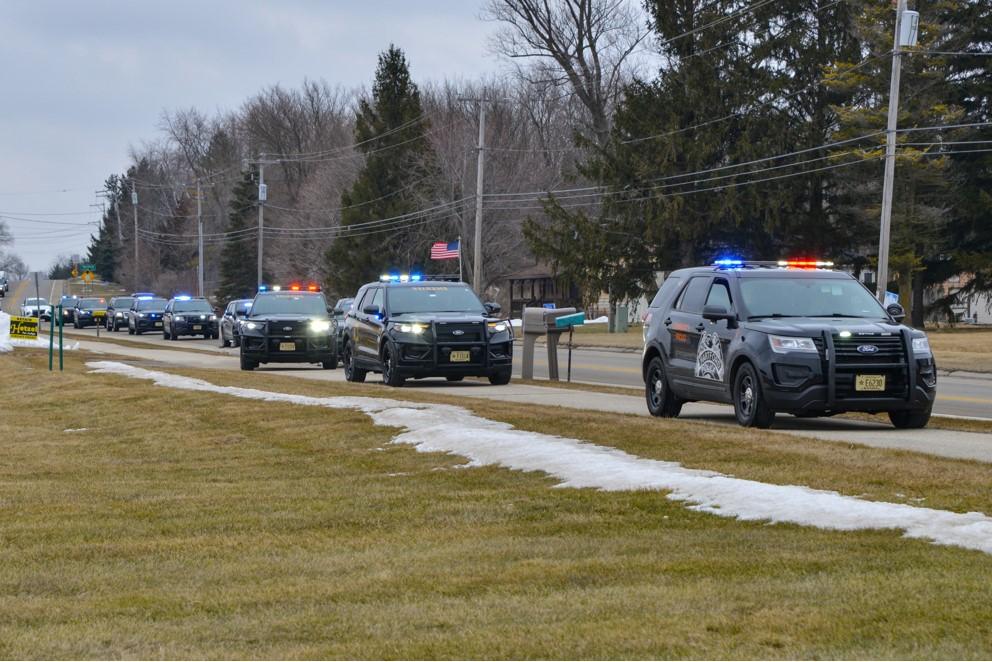 Officer Dorn led the way with Cash, content, and riding shotgun.
Click HERE to SUBSCRIBE to FREE local news at
The Hartford Honor Guard was called to attention and with flags raised and salutes held high Officer Dorn carried his brave loyal buddy one final time past other K-9 officers and a humble family of law enforcement.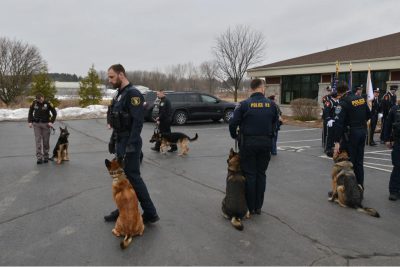 Officer Cash served with Officer Dorn from April 25, 2012, until his retirement December 23, 2021. Cash was trained as a drug detection K-9 and was also used for community relations.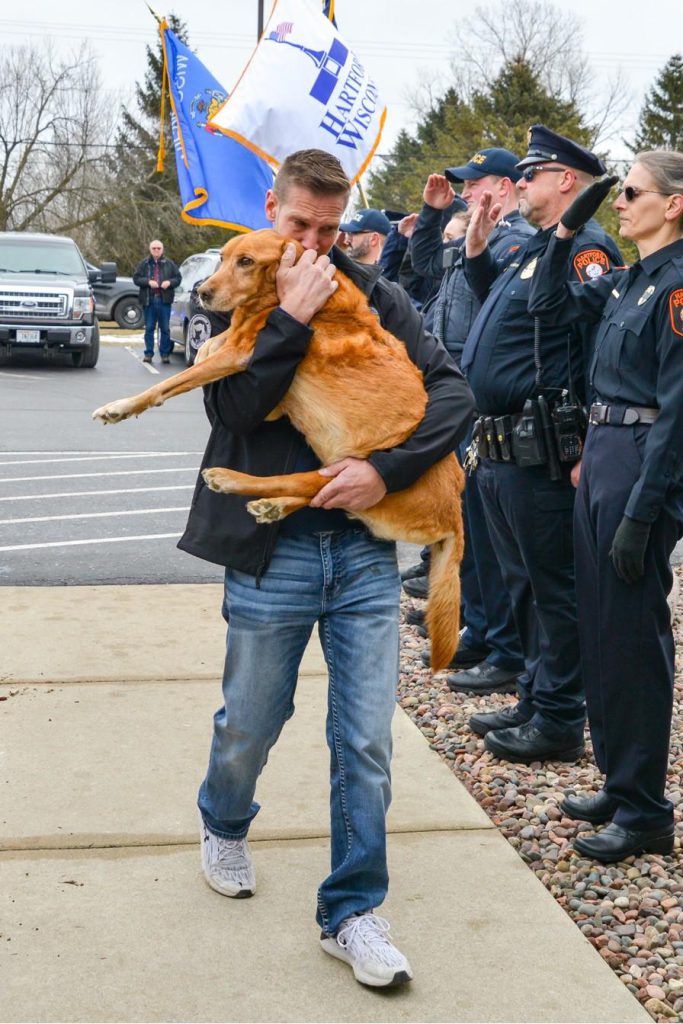 "Canine Cash helped the build bridges in the community during different events," said MacFarlan. "There's a lot of people that really enjoyed coming out to see Cash and I'm sure officer Cash enjoyed that as well.  I think what it brings most is a partnership that you build over many years of being together; they become your co-workers, your family and something really important to us."
Click HERE for more information on ASP Images specializing in animal photography.