VIDEO | Girl Scouts from Addison Elementary raise awarness for Foster Care Program | By Amy Kauper
Jan. 24, 2018 – Slinger, WI – Junior Girl Scout Troop No. 6244 made up of fifth graders from Addison Elementary School in Slinger worked toward earning their bronze award (first of three levels in the Girl Scout program).
The girls chose to raise awareness for the Foster Care Program in Washington County. They just completed their project this week and handed over 50 new backpacks filled with special gifts (pillows, journals, fidget spinners, and home made pillow cases made by the girls) for kids in the program.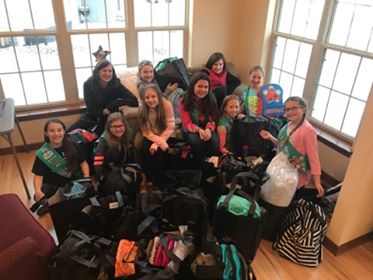 The girls hope was that the new backpacks would be able to replace the garbage bags kids normally use and provide hope and a smile as they transition to the foster home or back to their permanent home.
The girls used a video to raise awareness via social media and helped bring in all the amazing donations.