VIDEO | Gov. Walker celebrates Manufacturing Day at Spiros Industries in Kohlsville
Oct. 9, 2017 – Kohlsville, WI – Dennis Backhaus and Jim Maronde, owners of Spiros Industries in Kohlsville, welcomed Gov. Scott Walker along with students from Moraine Park Technical College to celebrate Manufacturing Day.
Walker touted manufacturing jobs as ones that pay about 20 percent more than the average jobs in Wisconsin, the jobs are 85 percent more likely to provide health-care benefits, and the retention rate is extremely high.
"It's a pretty compelling argument for people to consider a career in manufacturing," said Walker.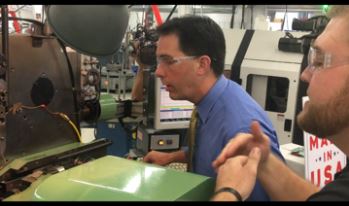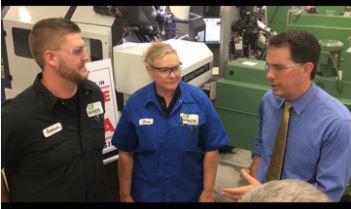 State Senator Duey Stroebel praised the positive manufacturing growth in Kohlsville. "When you have hard work and ingenuity it can happen anywhere," he said.  "We've got an innovative product and they've found that market niche and they're capitalizing on it."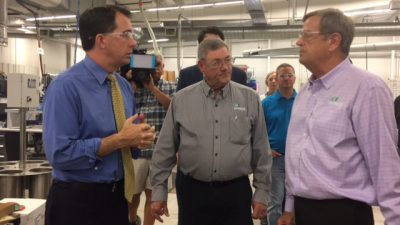 About 15 students from Moraine Park Technical College were at the Manufacturing Day event.  Isaac Schrage, 19, is studying CNC Technologies and Tool and Die at MPTC in West Bend. "I'm more of a hands-on type of guy and my drive to get into tech school was my high school teacher," Schrage  said. "This is so cool that I can make these things on my own."
August Baumgartner, 27, said it's a great honor to have the governor highlight the manufacturing base in Wisconsin.