VIDEO | Headliners announced for 2 days at Washington County Fair
.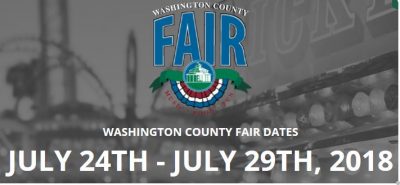 March 26, 2018 – Washington Co., WI – The Washington County Fair is still a couple months away but two of the headliners that will perform at the Silver Lining Amphitheatre are being announced today.
Kicking off the lineup on Thursday, July 26, will be SCOTTY McCREERY with special guest TBA
After winning Season Ten of American Idol, McCreery has become one of country music's hottest stars. His debut album entered at No. 1 on the Billboard Top 200 chart with singles "I Love You This Big" and "The Trouble with Girls". His second album See You Tonight debuted at No. 1 on the Billboard Country Albums chart and "See You Tonight" and "Feelin' It" both reached the Top 10 and were certified Platinum and Gold respectively.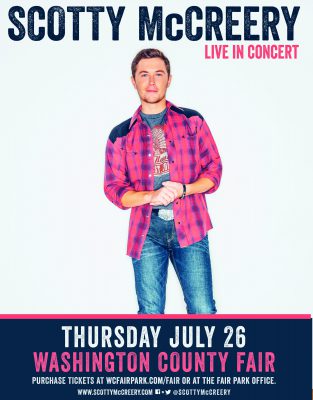 On writing "Five More Minutes" with Rogers and Monty Criswell; "I knew it was a special song," he says. "I tweeted that day that we just wrote my favorite song I'd ever written." On its first day of release, "Five More Minutes" was ranked No. 2 on the iTunes country singles chart and No. 9 on the iTunes all-genre singles chart and debuted at No. 6 on the Billboard Country Digital Sales Chart.
Friday, July 27 the ROCK & ROLL EXPRESS TOUR ROLLS INTO THE WASHINGTON COUNTY FAIR WITH:
3 DOORS DOWN & COLLECTIVE SOUL with special guest SOUL ASYLUM
With more than 30 million albums sold, 18 million digital single sales, billions of streams and 12 iconic hits combined, 3 Doors Down and Collective Soul are inviting fans aboard The Rock & Roll Express Tour this summer with special guest Soul Asylum on select dates. The amphitheater outing will kick off July 6 in Atlanta, GA and travel to 36 cities across North America before wrapping September 16 in Phoenix, AZ.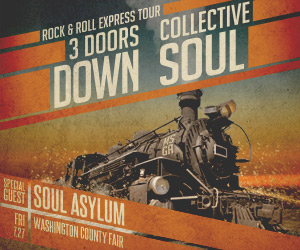 "Soul Asylum, Collective Soul and 3 Doors Down, that's a big night of hits!! I'm looking forward to hopping on the Rock & Roll Express this summer, gonna be fun!" said Brad Arnold of 3 Doors Down.
"It's going to be an exciting summer! Not only are we going to be out with a great band, but also some great friends. I look forward to seeing everyone come out and rock with us, 3 Doors Down, and Soul Asylum," said Ed Roland of Collective Soul.
Stay tuned for the announcement of the headliners for Saturday July 28.
VIP Reserved tickets for Thursday and Friday will go on sale for AIS Members on Tuesday, March 27 and to the public on Friday, March 30 at 10 a.m. and can be purchased online at http://www.wcfairpark.com/fair/vip-concert-tickets/ or at the Fair Park Office Monday-Friday between 8:00 am and 4:30 pm.
Ticket prices range from $20-$35 and include admission to the Fair.