Sept. 11, 2017 – West Bend, WI – Parishioners from Good Shepherd Lutheran arrived at church Sunday with shovels and spades in hand and a ready-to-work attitude on their face. It was a joyous day as ground was broken for a new addition at the church/school on the corner of Indiana Avenue and Decorah Road in West Bend.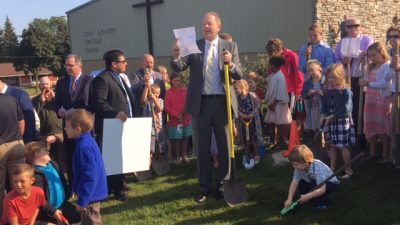 "We started this project two years ago in May of 2015," said building committee chairman Tim Reis. "It's been a lot of hard work from a lot of people to get to where we are today."
Thrivent Financial presented a check for $2.1 million which will be the loan for the $3.2 million project.
Plans at Good Shepherd include four additional school classrooms, renovated bathrooms, a new welcome center and gathering space, an elevator, a fellowship hall, Fireside bible study room and updated heating and air conditioning.
Click HERE to see remodel designs.
Construction will get underway Sept. 18 and heavy machinery will come in Sept. 25.
Carol Fisher has been a parishioner since 1953 when Good Shepherd first broke ground.
"We bought a house on Indiana Avenue when this corner was a swamp and a sand hill," said Fisher. "We stood in the yard and listened to the first group that broke ground and this became the first church."
Fisher recalled the early days of muskrats, pheasants and cattails and WBKV Radio across the street. She said a lot has changed over the years.
Fisher said her great grandchildren attended Good Shepherd Lutheran School and she's seen the parish grow from 10 people at Sunday service to hundreds.