VIDEO | Kris Parker wraps up 42-year career working at Hartford Public Library / Jack Russell Memorial Library
April 29, 2019 – Hartford, WI – There's a walking library in Hartford and her name is Kris Parker. After 42 years on the job, with millions of books circulated on her watch and two facility relocations under her belt, she is retiring from the Jack Russell Memorial Library on Tuesday, April 30.
"I started in 1977 working part time in the children's section of the library which and that time was in the council chambers at City Hall," said Parker. "They ran out of room in the main library on the third floor and they moved it downstairs."
Parker was 28 years old and a stay-at-home mom with two kids when she was encouraged to fill out an application by then library director Betty Wenzel.
"The children's librarian at the time was Frances Rhodes, who actually was my Brownie leader when I was a kid," Parker said. In 1977 when Parker started at the public library Gerald Ford was President of the United States and the population of Hartford was just about 7,000.
Some of the big influences with children during that era were Mr. Rogers, Sesame Street and Disney. "They were just starting with the princess movies and those were all popular books in the children's library," she said.
Dr. Seuss has stood the test of time as well as the Nancy Drew series. "Some kids will start reading those because their parents did and they'll go onto other mystery series," she said. "Laura Ingalls books are still popular, and the graphic novels or comic books are very popular."
"Reading to a child is so cool," laughed Parker. "They love to ask questions and they're like little sponges just soaking it all up. I did miss children's when I left it…. but it was a lot of work."
One memorable story came during a discussion with a 5-year-old who said she was "sassy and her mom put her to bed without any porridge."
"I knew that girl's mom and when I saw her, I asked for her recipe for porridge," said Parker.
Working in the children's library for six years Parker then applied for and received a full-time job in the library catalog department.
Library director Jennifer Einwalter said Parker welcomed her when she was first hired in April 2015. "She taught me about the history of library service in Hartford and gave me insight into decisions that were made by directors all the way back to our very first, Juno Goetz," said Jennifer Einwalter. "She gave me an insider view of the heartbeat to our service."
Parker, she said, has been "a dedicated and loyal city and library employee."
"No matter what she was asked to do she did it," Einwalter said. "Kris learned three different library software programs and saw the library grow from print-only materials to videotapes, books on tape, records to CDs, DVDs, online databases and eBooks. She took every change in stride and did not flinch to learn something new."
It was 2018 when Parker started mulling retirement. "I just didn't want to retire in winter so I spoke with Jennifer (Einwalter) and she said I should stay until April," she said.
The library, according to Parker, is like family. "Some of us have been working together quite some time… and Hartford is so lucky to have this facility. We even have people from out of state come to visit and their family here says, 'You have to come see our library.'"
"I just love it here. The people I work with and the kids who say, 'Hi Miss Kris.' It's just a nice place to work."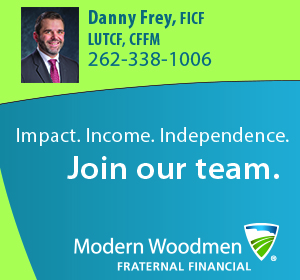 On a history note: 
-When Parker first started at the library, she said checking out a book involved a pocket with a card on the inside cover of each book. "It was this little machine called 'the Gaylord' and you would stick the book card into it, and it would put a date on there; the date the book was due. Then we'd have another card that we would stamp with the date and put that in the pocket of the book so the people would know when to bring it back. It wasn't fun at all… for one thing we encouraged people with best sellers to put them on hold and at that time if you wanted to put a book on hold we had to look through thousands of cards for books that were checked out to find that card. Granted it was by author so we wouldn't have to go through everything but we had a month's worth of dates so that was kind of a headache. That was the best thing ever with the computer."
-Fines for an overdue book were a nickel for everything. "But when we first got VHS tapes, we charged $1 because we didn't want to upset the movie rental shops in town. Of course, now we don't charge but it's $1 a day if it's overdue."
-Stories that came with overdue books. "We had one book that was just bloated it was so wet it was swollen to twice its size. The person who returned it in the book drop claimed we had a water leak in the book drop."
-Parker said when she first started cataloging books, she had dreams about the Dewey Decimal System… but that only lasted a short period of time.
-A phenomenal book – "When I started as an adult anything from Danielle Steel, there was a waiting list like you wouldn't believe. Now it's a James Patterson book that has more than 100 holds."
-Parker's favorite authors include Stephen King, "Salem's Lot scared the bejesus out of me."
-I do remember when we had the Gaylord it was like a paper library card with a metal number in it and that's what you would put into that machine and then that number would be stamped onto that card that would go into the book. Parker remembers the sound of the metal stamp hitting the card. "It was a metallic sound… kind of like a cuh-clunk, cuh-clunk."