VIDEO | Local volunteers help United Way of Washington County
Sept. 22, 2017 – Washington Co., WI – It was a day of giving back as more than 400 volunteers from 40 local businesses, schools, and nonprofit organizations gathered at the Washington County Fair Park to pack Personal Care Kits for 2,500 people in need.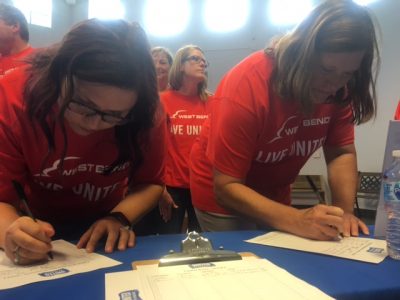 A statement from the United Way of Washington County read:  While these supplies will stay local as our mission is to serve people in Washington County, we also recognize the immense need in communities impacted by hurricanes.
"Whether it's mental illness, job loss, or abuse, we know there are many circumstances that can lead to household and financial instability," said Kristin Brandner, executive director of United Way of Washington County. "We hope these Personal Care Kits will help people get a fresh start so they can get back on their feet."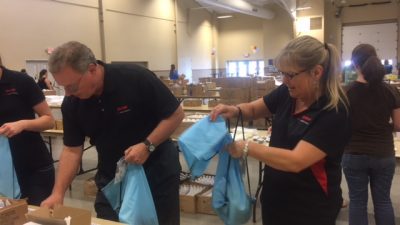 That's why we invite you to join us in collecting personal hygiene supplies that will be distributed by our colleagues at United Ways down south. Please consider running a collection at your home, workplace, school, or church. Together, we can help families as they rebuild and reclaim their lives.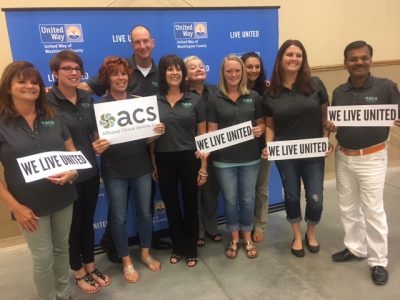 "This is wonderful because I like to give back to the community," said Paula Keller from Maysteel. "There's not too many people who are fortunate enough to live the life that I live."
During the event, teams of volunteers worked in assembly lines to fill tote bags with 15 items, including shampoo, soap, and toothbrushes. The kits were completed with notes of encouragement signed by each volunteer.
"Washington County is a really special place to live and work, and this event is an example of that," said Kevin Steiner, president and CEO of West Bend Mutual Insurance Company, and United Way of Washington County's 2017 Campaign Chair. "Community is more than just a group of people living in one area. It's coming together to improve people's lives. And that's what people in Washington County do.'"
The Personal Care Kits will be distributed through local churches, schools, homeless shelters, food pantries, and nonprofit organizations in Washington County.
The event was sponsored by West Bend Mutual Insurance Company, Aurora Health Care, and Proforma Effective Solutions.
During their annual fundraising campaign, United Way of Washington County encourages the community to Give, Advocate, and Volunteer. The funds raised benefit education, financial stability, and health programs at 18 local nonprofit agencies.
To learn how our community benefits from United Way programs, and to join the uniting force for good, please visit www.UnitedWayOfWashingtonCounty.org.
About United Way of Washington County
United Way of Washington County is a volunteer-driven organization that provides resources and solutions for health and human service needs in communities throughout Washington County, Wisconsin.  With a focus on Education, Financial Stability, and Health, United Way's mission is to improve lives and community conditions in measurable and lasting ways.
The event was organized by the United Way of Washington County as a kick off of its fundraising campaign.