VIDEO | Overhead view of Week 2 of new Fleet Farm construction

Oct. 29, 2018 – West Bend, WI – The logging trucks and bulldozers have cleared a majority of the trees from the nearly 42-acre lot as contractors make way for the 192,000-square-foot Fleet Farm to the south of Highway 33 just east of County Highway Z.
An aerial view shows a treeline to the south at the back of the lot. Black fabric outlines the edge of the proposed development to the west.  Reddish-orange fencing circles a small wetland area in what appears the near middle of the property.
Along with the new store there will also be 652 parking stalls and another 7,100-square-foot convenience store.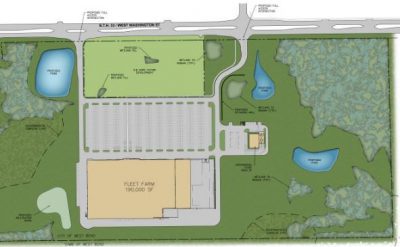 About a mile east on Highway 33 the old Fleet Farm on 18th Avenue sports its seasons sign touting "Toyland Now Open." It's the last time that sign will be displayed at this location as the new Fleet Farm is scheduled to be completed September 9, 2019.