West Bend, WI – There's been quite a bit of visible progress on the former Shopko buildout, 1710 S. Main Street, as four national retailers prepare to open. Facade signs are in place for HomeGoods and Sierra, which are part of the TJX / TJ Maxx franchise.
The two stores will open on the same day. Click the video ABOVE for an Easter egg announcement.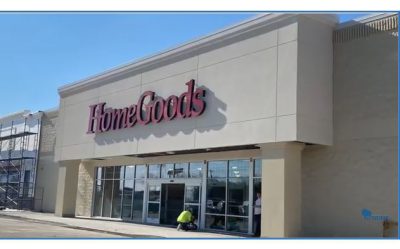 Sierra, the multichannel off-price retailer that delivers great value on active and outside brands will open in West Bend this Saturday, November 19.
This will be Sierra's third store within the Milwaukee metropolitan area.
It is a one-stop- shop for everything from hiking, camping and skiing to running errands, decorating your home and daily dog walks.
The Sierra team will open its doors to the local community with a grand opening celebration on Saturday, including music from local DJs, and fun games and giveaways for shoppers. The community can shop all of Sierra's essentials in apparel, footwear, gear and home décor as well as feature seasonal offerings, including winter essentials, snow sport apparel, holiday gifts and more.
"Whether it's kitting out your family for the cold weather, decorating the home for the holidays or getting an early start on gifts for friends and families, Sierra is ready to help shoppers save big with all of today's top-quality brands."
In celebration of its arrival in the West Bend community, Sierra has made a $10,000 donation to Family Promise of Washington County, supporting the charity's mission to rebuild lives with compassion by providing resources and services that prevent and end homelessness for individuals and families in the community.
GRAND OPENING INFO & STORE FEATURES
● Grand Opening: Saturday, November 19 @ 8 a.m.
● Store Location: Paradise Pavilion
1720 South Main Street West Bend, WI 53095
● Store Size: 15,658 sq. ft.
● Regular hours: Monday – Saturday 9:30 a.m. to 9:30 p.m. and Sunday 10:00 a.m. to 8:00 p.m.
● Employment: Sierra is currently hiring new full- and part-time store Associates in West Bend.
***
ABOUT SIERRA
Founded in 1986, Sierra helps customers get active with epic brands, vast selection, and teeny, tiny prices.
Click HERE for the development going into the Hobby Lobby parking lot on S. Main Street.