VIDEO | Ribbon cutting at U.S. Post Office in Hartford
Nov. 21, 2017 – Hartford, WI – Community leaders in Hartford held an intimate gathering Tuesday morning at the Hartford Post Office to celebrate a new era in efficiency.
The post office, 45 E. Wisconsin Street, will now have its lobby open 24-7. Access to postal blue collection boxes remains the same. With the new lobby times, customers will also have access to their Post Office Box mail and 24-hours a day with mail available daily for pick-up.
Retail hours at the facility are currently from Monday through Friday 8:30 a.m. -5 p.m. and Saturday 9 a.m. – 12 p.m.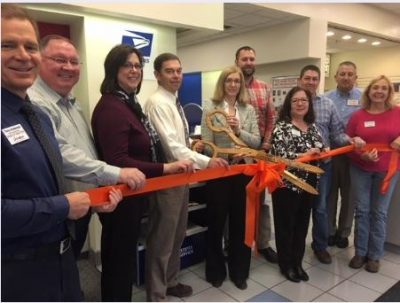 "Post Office Boxes are as secure as mailboxes but provide more flexibility for mail pickup," said Postmaster Diane Jones. "The convenience of earlier mail delivery is helpful to small business owners. Post Office Boxes provide home-based businesses with the ability to separate business and personal mail."
The Hartford Post Office offers PO Boxes that are affordable, convenient and secure. Customers visiting Post Offices will see blue display tags in PO Box lobbies identifying boxes available for rent.
PO Boxes can also be found online at www.usps.com/poboxes.
Full Service Retail Counter Hours                                                 Lobby Hours
M-F:   8:30 a.m. – 5:00 p.m.                                                             24/7
Sat:     9:00 a.m. – 12:00p.m.
Sun:   Closed