VIDEO | Take a tour inside the new Angelo's Pizzeria in Slinger
Jan. 16, 2018 – Slinger, WI – There's a bit of work left to be done before the new Angelo's Pizzeria opens in Slinger.
The new restaurant is going into the old Heros Sandwich Shoppe, 140 Kettle Moraine Drive North in Slinger.
Owner Tony Herrera said he'll serve New York-style pizza, thick and thin crust; this will be a hand-tossed pizza with a homemade recipe and flavorful sauce.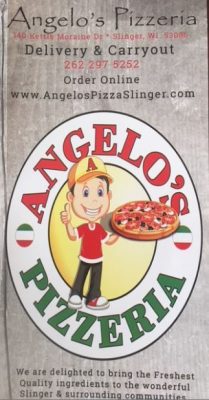 Herrera likes the location with the ski hill and Slinger Speedway up the street and the high school around the corner.
Angelo's Pizzeria will have carry out and delivery.
Herrera still has a couple of job openings to fill. Apply by calling 414-329-2756.
Stop back tomorrow and we'll have a look at the menu and an early review of the new Angelo's Pizzeria.
Opening soon in Slinger.