April 14, 2019 – West Bend, WI – A note of thanks from the West Bend Noon Kiwanis for the community support at its annual Breakfast with the Easter Bunny.
There was a strong turnout at The Columbian as little girls in their brilliant Easter dresses and boys with big hugs lined up for hotcakes, sausage and a photo with the Easter Bunny.
The family event was enjoyed by all.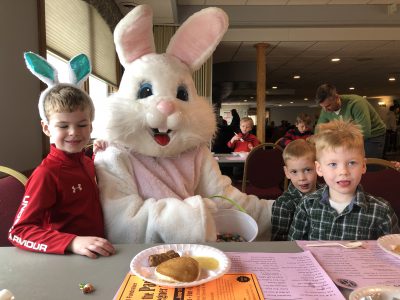 Be sure to make plans for the upcoming Noon Kiwanis Steak in the Park on June 18 at Regner Park.
Save the Date!
The West Bend Noon Kiwanis Club hopes that you have enjoyed your past attendance at our annual "Steak in the Park" fund raiser!
We will again be hosting this event on Tuesday, June 18 at Regner Park from
 5-8 p.m., featuring delicious rib eye steaks (or chicken breasts) along with live music by "Back in the Day Dan".
This year, proceeds will support a $10,000 club grant to the pediatric dental program run by The Dr. James E. Albrecht Clinic.  Children referred by our county's Head Start program are otherwise unable to receive dental treatment in our area.   All research data shows that early dental care is critical to the long- term health and well-being of those served.  
Tickets will be available for only $25 at: Horicon Bank, Minute Man Press,the West Bend Area Chamber of Commerce, or through any Noon Kiwanis Club member.   Look for updates in the Washington County Post, on-line with the Washington County Insider, as well as other news outlets.   For more information call John Bloor at 262-338-1188.
Sponsorship Opportunity!   Do you have a business or other association that would like to support this effort by becoming an event Sponsor?   You will receive recognition in all pre and post-event promotional materials, and at the event throughout the evening.  Complimentary tickets will also be provided.
                        Premier level: $5,000 (10 tickets)
                        Gold level: $1,500 (6 tickets)
                        Silver level: $1,000 (4 tickets)
                        Bronze level: $500 (2 tickets)
For more sponsorship information please contact Tom Bergerud at 414-852-7301